Lincoln Rd changes prevent traffic streams getting caught up, hopefully reducing delays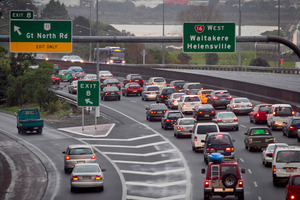 Q: Just recently, the new traffic lights on the interchange at Lincoln Rd on the Northwestern Motorway have been turned on. It is now taking up to three-quarters of an hour to access the motorway from Universal Drive, when previously it was around 15 minutes. Can you find out what has gone wrong?
- Thomas Gough, West Auckland, and Brett Robertson, Henderson.
A: You may already have noticed a difference, Mr Gough. Just hours after I received your email, one from the Transport Agency landed in my inbox, advising that the closure of a section of the motorway on Thursday night would facilitate changes at the Lincoln Rd interchange.
Traffic heading into the city will now be separated from vehicles wanting to access the motorway heading westbound.
The Transport Agency's Safety and Network Performance Manager Steve Mutton said last week that the changes would help ease the congestion that has delayed drivers during the morning peak in recent days.
"We noticed with the present layout that drivers heading west were getting caught up with city bound traffic and that was contributing to the delays," said Mr Mutton.
"The new layout being implemented will provide one dedicated lane for westbound drivers and one dedicated lane for eastbound drivers and those heading over to the concourse, as it was previously."
The Transport Agency reminds drivers that there is a 70km/h limit driving through the Lincoln Rd works and 80km/h through the rest of the works along the Western Ring Route.

Q: In the South Auckland area and possibly elsewhere, the speed limit signs for 100km/h vary from a sign indicating 100 to a sign on a white disc with a diagonal black sash across the disc. Is there a difference?
- Morry Doidge, Pukekohe.
A: Not according to the Road Code.
They are both open road speed limit signs, advising that the maximum speed at which you may travel is 100km/h.

Q: We have a road and traffic lights and some parking spaces and there was mention of a feature pole. Is anything else going to be happening at the Park and Ride in Silverdale?
- Sue Abercrombie, Whangaparaoa.
A: Stage two of the Park and Ride facility was timed to coincide with the delivery of new bus services to the Silverdale area.
Construction was to begin last month and will take until May 2014 to complete.
Stage two consists of the busway station itself, a 500-vehicle car park and stormwater treatment pond. I can find no information about a feature pole.