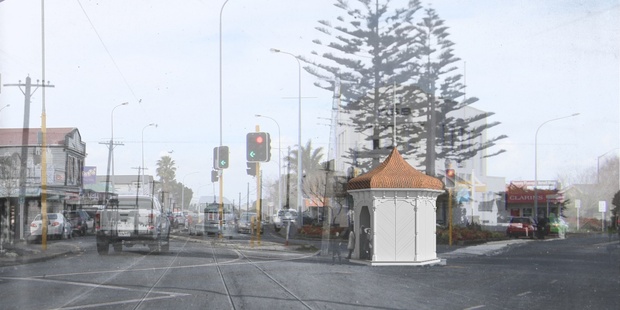 An attempt to recreate a historic tram stop in one of Auckland's oldest suburbs didn't quite meet the timetable for this month's Auckland Heritage Festival.
But the project is highly likely to pull into the station next year, having received impetus from fresh proposals for light rail.
When Greenwoods Corner Business Association began an ambitious Auckland Heritage Festival project to temporarily recreate the Corner's original "Onion Top" tram stop, the local community was not aware of plans to run modern-day trams down Dominion Road in the next 10 years. The plan further extends down the Onehunga line which ran through the Corner until 1956.
They're better educated now. Though, sadly, the curious hexagonal stop could not be created in time for the annual heritage festival which wrapped up on October 9.
Local board funding for the building of the replica of the circa 1905 stop - artfully drawn-up by heritage gurus Stephen Jones Architects - came to a standstill. But public and professional appetite was piqued.
Starting in July, investigations into trams and tram stops at the Corner brought interest from Motat's tram experts, 84-year-old Fred Hadwin and engineer Leyton Chan.
At a festival themed Epsom Rotary talk early October, Hadwin shared images and exerpts - some from his photographic memory - and Chan took the audience through the future of light rail - the modern tram.
Many members and guests did not appreciate the mass of people trams used to transport every five minutes, nor the vast increase in bodies that light rail could achieve over and above that, on similar tracks.
From around 1902, Auckland's tram services ran from the city's Waitemata Harbour, to Onehunga on the Manukau Harbour, through Greenwoods Corner. At the time, Auckland scored a global first in "coast to coast" tramway systems.
Chan, a Greenwoods local, has spent considerable time presenting to Auckland Council and Auckland Transport on the beauty and functionality of these modern day trams, and believes unequivocally that they are the future of public transport.
The Transport Blog's John Polkinghorne shares the sentiment.
"In the next few years, it's quite likely that some of the major corridors in Auckland will be converted to light rail - starting with Dominion Rd, where buses already carry more than half the total people moving along that street in the peaks, and then other routes.
"We're supportive of this - it's probably only a question of timing and cost. Modern light rail is quite different from historic trams. It has much higher capacity, for one thing...they could carry up to 450 people per vehicle."
This practical education has changed the business association focus from bringing back historic trams to the line that Sir John Logan Campbell reputedly drove the first tram along, to bringing back transport-heritage reminders to complement light rail.
In a local sense, this means the permanent placement of a functional tram stop, as rendered by Stephen Jones' team. GWCBA Chair Joy Stirling believes the idea has city-wide potential, and that marrying heritage and creativity with transport practicality will be very engaging for urban communities.
To find out more, a simple survey was created last week. So far responses are showing a keenness to create a permanent village Onion Top stop, to leave trams in the past, and to welcome light rail.
"Local people are excited about the idea of such a historic icon built in the village - one that will remind people of the area's beginnings and architecture, yet move a lot of people to this business district.
"There is a lot of work to do now, as we would like to launch this at next year's Heritage Festival.
"We'll be talking to more people who contributed exceptional wisdom and time to this concept already: Jim Jackson of Jackson Industries, Gary Vogel of Artisan Builders, and of course Stephen Jones, to name a few."
For more on the Auckland Heritage Festival, go to heritagefestival.co.nz
For more on Auckland Transport's detail and planning on light rail for Auckland: at.govt.nz/projects-roadworks/light-rail