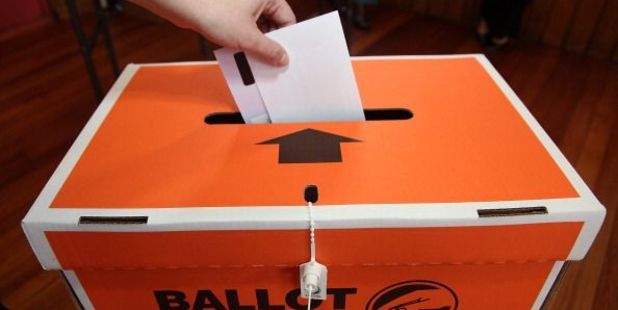 It would be hard for anyone in Auckland not to notice the local elections are on, but what's harder is to turn good intentions into voter action.
"Over 80 per cent of Aucklanders say they are aware it's election time and 75 per cent say they intend to vote," says Glyn Walters, Auckland Council's Manager Elections Planning.
"We're trying to make it as easy as possible for Auckland's more than one million eligible voters to fulfil that intent and actually cast their ballot, rather than just starting to fill the document in, leaving it on the bench, driving around with it, or losing it in the depths of a handbag."
The council's showyourlove.co.nz website not only has information about the candidates in your area and their thoughts on key issues, it also has an interactive map with the locations of hundreds of NZ Post boxes where people can mail their vote.
"It's simple - just tap in your address and the website will do all the work for you," Mr Walters says.
Voters need to mail their ballot by Wednesday 5 October so it arrives on time. But for anyone who misses that deadline, there are also easy to find ballot boxes at 55 libraries and nine service centres around the region.
In addition, there are also seven large heart-shaped ballot boxes at the Orewa, Takapuna, New Lynn, Manukau, Pakuranga, Pukekohe libraries and on lower Queen St, outside Britomart Station.
"If you want to vote but are not on the electoral roll, or you haven't received your voting document, there is still time," Mr Walters says. "You can register or make an address change to the electoral roll by 4pm Friday 7 October, and cast a special vote right up to midday Saturday 8 October."
Special votes are votes available to people:
• whose names do not show on the Electoral Roll, but who qualify as electors (for example a person who just turned 18 or recently moved house);
• who have not received their voting document;
• who spoil or have damaged voting documents;
• whose names are on the Unpublished Electoral Roll.
To request a special vote, you can:
• phone the Electoral Office on 09 950 7539 or 0800 922 822, and a special vote will be posted out; or
• visit one of the special voting venues listed below.
Location Address
Electoral Office (Election Services) Level 3, Custom House, 50 Anzac Ave, Auckland City
Birkenhead Library Nell Fisher Reserve, Hinemoa St , Birkenhead
Glen Eden Library 12 - 32 Glendale Road, Glen Eden
Howick Library 25 Uxbridge Road, Howick
Kumeu Library 296 Main Road, Huapai
Warkworth Library 2 Baxter Street, Warkworth
Great Barrier Service Centre Hector Sanderson Road, Claris, Great Barrier
Henderson Service Centre 6 Henderson Valley Road, Henderson
Manukau Service Centre 4 Osterley Way, Manukau
Orewa Service Centre 50 Centreway Road, Orewa
Papakura Service Centre 35 Coles Crescent, Papakura
Pukekohe Service Centre 82 Manukau Road, Pukekohe
Takapuna Service Centre 1 The Strand, Takapuna
Waiheke Service Centre 10 Belgium Street, Waiheke
Special votes require the completion of a statutory declaration. This is easy - you just need a friend who is a registered voter to sign your form.
Getting on the Electoral Roll
If you request a special vote and are:
• not on the Electoral Roll (just turned 18 years); or
• on the Electoral Roll but at another address (recently moved house)
You must also update the Electoral Roll by 4pm Friday 7 October 2016. You can:
• visit any PostShop, or
• phone 0800 36 76 56
• go to elections.org.nz, or
• send your name and address to Freetext 3676
Voting closes midday on Saturday 8 October and the progress results announcing who will lead Auckland are expected to be announced from 2pm.