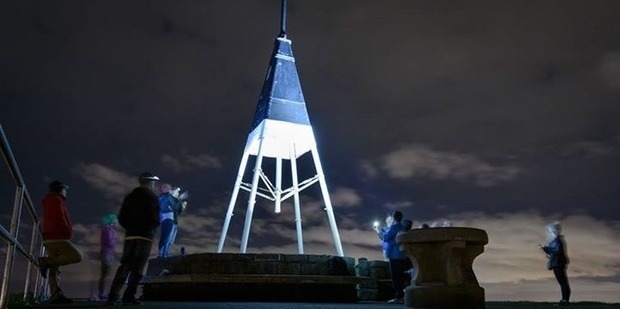 A group of Kiwi fathers joined families who have lost loved ones to suicide in an emotional torch-lit "lights for lives" commemoration on Auckland's Mangere Mountain yesterday morning.
The Kiwi Daddys Facebook group, founded in March by two Kiwi fathers in Australia but now listing almost 57,000 members, mainly on this side of the Tasman, supported the event because of the high number of men in the suicide statistics.
Coroner's statistics show that 428 males and 136 females took their own lives in the year to June last year.
Pastor Joseph Fa'afiu of The Gate Church in Papakura organised the "lights for lives" events at 5am yesterday on 38 mountaintops from the Kaitaia lookout to the Flagstaff Summit in Dunedin, plus hills in Sydney, Brisbane, Melbourne and Perth.
He and his wife Lydia lost a close friend, a mother of three who committed suicide six years ago.
He said most of the 100 people on Mangere Mountain and about 60 at One Tree Hill, where he and his wife were based, raised their hands when they were asked who had lost close family members or friends to suicide.
Where to get help:
• Lifeline: 0800 543 354 (available 24/7)
• Suicide Crisis Helpline: 0508 828 865 (0508 TAUTOKO) (available 24/7)
• Youthline: 0800 376 633
• Kidsline: 0800 543 754 (available 24/7)
• Whatsup: 0800 942 8787 (1pm to 11pm)
• Depression helpline: 0800 111 757 (available 24/7)
If it is an emergency and you feel like you or someone else is at risk, call 111.