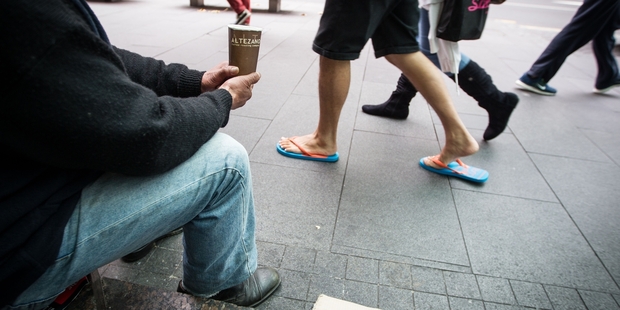 More homeless people in Auckland could soon go straight from the streets into their own apartments or houses, instead of being shuffled through emergency shelters or state housing under a government-backed move.
Social Housing Minister Paula Bennett announced yesterday that $3 million would be invested in an initiative called Housing First, which will be implemented by community groups.
Housing First, which originated in Canada, is based on the idea that people in need should be housed first, before any other issues, such as addiction, mental health, or anti-social behaviour are addressed. Its founder, American psychiatrist Sam Tsemberis, visited New Zealand in October to promote the policy.
Bennett met with Tsemberis at the time and saidyesterday that the "time is right" for the Government to invest in the scheme because community groups had begun to implement their own Housing First programmes. She said the initiative fitted with the Government's "social investment" approach because it had a proven track record overseas.
"There are some that work with chronic homeless that don't actually believe in emergency housing and night shelters because they think it just perpetuates the problem.
"That's where Housing First is quite different, where it gets them into permanent housing and that's the total fixation. And then they work for a period of months to fix any underlying issues."
Charities that work with homeless people are applauding the investment, which comes as the Government is under pressure to address homelessness.
Lifewise chief executive Moira Lawler said new approaches were needed in response to the rising number of people sleeping rough.
Her organisation rolled out its own Housing First programme last month. "It sidesteps the emergency housing and transitional housing. It also sidesteps any prerequisites in terms of behaviours or health. It says house people first and then support them to work on their other issues."
Lawler said there were "subtle barriers" in New Zealand social services that required people to "jump through hoops" before they were independently housed.
"Housing First is about the evidence. There is the moral issue where we need to consider our right to impose conditions on people. But there is also the science that says people have a better chance of staying housed if you use this model."
- NZME.