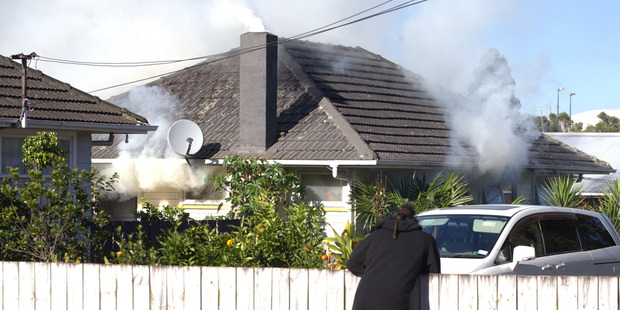 A house in the South Auckland suburb of East Tamaki was on fire yesterday with a thick plume of smoke able to be seen from the Southern Motorway.
Five fire appliances were fighting the blaze and two more were on their way, and emergency services tried to establish if everyone was accounted for.
Semi Tonga's home was gutted by the fire but he was just thankful no one was hurt because almost everyone was out at church.
"It's all wrecked now. There's nothing left," he said of the property destroyed in the South Auckland suburb of East Tamaki yesterday morning.
The 25-year-old was at his in-laws' when he got the call from his parents, who live with him, that their home was on fire.
As he drove down the Southern Motorway, he could see the thick plume of smoke and his heart sank.
Mr Tonga spoke to the Herald over the phone as he stood on the edge of the cordon waiting to assess the extent of the damage but said he knew it was all gone.
"The whole thing is wrecked. Ninety-five per cent of all the stuff is wrecked."
But he said he was just happy everyone was safe and unhurt - most of them were at church.
Nine people live at the home, including Mr Tonga's wife, 2-year-old daughter, his parents and siblings.
Mr Tonga had owned the East Tamaki house for five years and said he has no idea what started the blaze.
Firefighters told him it might have been the gas bottles for the barbecue but Mr Tonga said he didn't believe it was the source of the ignition.
Everyone was still in shock at what had happened.
- NZME.