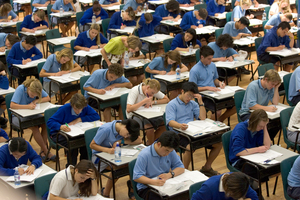 Auckland has topped the number of students caught cheating on their NCEA exams.
Of 305 students investigated, 290 were caught cheating with 159 pupils from Auckland, according to the New Zealand Qualifications Authority's (NZQA) report, released yesterday.
This was similar to 2014 results which also found Auckland had the most cheats - 124 that year - followed by Wellington with 41. Again Central Plateau and the Cook Islands had no cheaters, and Wairarapa and Southland students were also honest.
280 students were caught cheating in the 2014 exams, out of 299 investigated pupils,
Of those caught cheating in last year's exams, 102 were using or had a cellphone on them, and 59 were either using notes or had notes on them.
A further 39 were found with unauthorised material, eight with inappropriate or offensive material/language, and 20 had an unauthorised absence from the exam room.
Two students were caught with similar answers to another candidate, 34 were caught communicating with another student in the exam room, and 20 were found to have caused a disturbance. A further 10 had the authenticity of their answers questioned.
Using cellphones was also the most popular method of cheating in 2014.
2015 cheats by region
Auckland 159
Bay of Plenty 6
Canterbury 23
Central Plateau 0
East Coast 3
Hawke's Bay 12
Manawatu 7
Nelson/Marlborough 5
Northland 25
Otago 5
Southland 2
Taranaki 4
Waikato 20
Wairarapa 2
Wanganui 1
Wellington 27
West Coast 4
Cook Islands 0
- NZME.