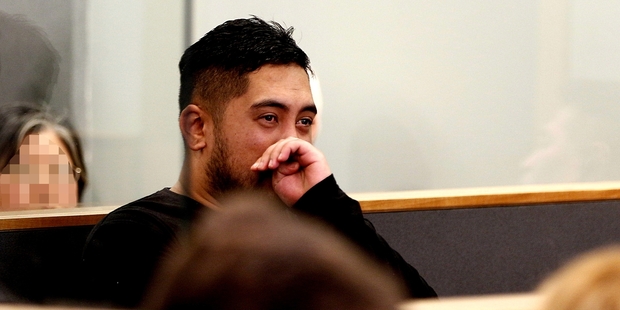 An Auckland man accused of killing his 5-month-old daughter claims he accidentally dropped the girl while bathing her.
Troy Louis Stuart Solomon, 25, is on trial before the High Court at Auckland charged with the murder of Aaliyah Izabella Betty Solomon.
Crown prosecutor Aaron Perkins said an explanation which fits the girl's injuries was that she was swung around by the leg before coming to an "abrupt halt" when her head struck an object.
He told the jury that Aaliyah died at a Pukekohe address on August 7, 2014, after suffering a "catastrophic head injury".
"The Crown allege the defendant had earlier violently assaulted [the baby], causing the fatal head injury, as well as a substantial fracture to her left femur," he said.
"In the hours that followed, Mr Solomon told numerous people that [she] had drowned in the baby bath. That's not how she died."
When police arrived at the scene, the defendant told them he had gone upstairs briefly before returning to find his daughter underwater in a baby bath.
He tried CPR before calling emergency services, Solomon initially told police.
Armed with information from the pathologist about the victim's injuries, police took the man to the station for another interview the following day.
Mr Perkins said Solomon "steadfastly maintained" his account that Aaliyah had drowned.
"You're telling me about her dying of a head injury. What I'm telling you is 100 per cent true," the defendant told officers.
But after the recorded interview, which lasted several hours, had ceased, a senior officer pressed Solomon.
The 25-year-old asked to return to the interview room where he told police for the first time that he had dropped the baby accidentally.
Solomon said he was stoned from smoking cannabis and had not told the truth beforehand because he was "too much of a drop nuts".
"The Crown position is his explanation is utter nonsense," Mr Perkins said.
"Mr Solomon knew the drowning story wasn't going to work . . . he had to change his story and give some account for the injuries that had been discovered by the pathologist."
But the prosecutor said his version of events would be rubbished by medical experts called to give evidence.
The break to the baby's femur was a spiral fracture, which Mr Perkins said could only be caused by a twisting motion.
A pathologist would also give evidence he found a healing fracture to Aaliyah's right tibia, which had likely happened a few weeks prior to her death, as well as other bruises.
They could not have been self-inflicted, Mr Perkins said.
Defence lawyer Phil Hamlin said his client accepted responsibility for his daughter's death but "that did not amount to murder".
- NZME.