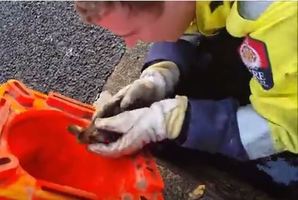 A team of volunteer firefighters who earned acclaim around the world for their heart-tugging rescue of eight ducklings trapped in a Green Bay drain have received another accolade.
Footage of Titirangi Volunteer Fire Brigade firefighters extracting the ducklings has appeared around the world.
People for the Ethical Treatment of Animals Australia associate director Ashley Fruno announced the brigade would receive a Hero to Animals Award for their efforts.