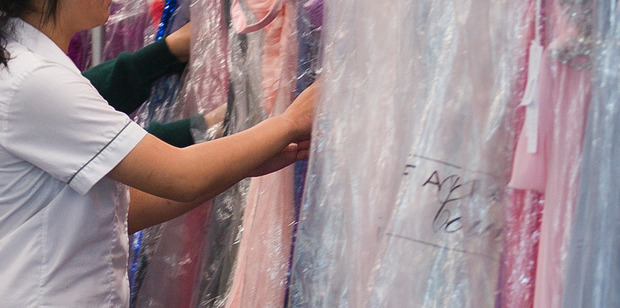 Students at a West Auckland Catholic girls' college are dismayed at strict rules for their upcoming school ball which ban dresses with plunging necklines, low backs and leg splits above the knee.
A petition has been launched to persuade the head of St Dominic's College in Henderson to rethink the new dress code at this year's senior dance. It includes no cleavage, leg splits to be no higher than the knee and the back of the dress not dipping below the armpit.
Girls have been told their shoes must remain on throughout the evening. They must also be in a serious relationship if they want to arrive with a date.
Several senior St Dominic's College students have confirmed the strict new rules, which they were told had been put in place to maintain high standards.
One Year 13 student, aged 17, said the school held a meeting last week about the new dress code for the ball.
"We have a new [associate] principal who has given us new rules about the dress code. There's rules about the front, the back and the length of the slit. It's all different from last year so we're pretty bummed."
Girls who had bought dresses before the dress code announcement had to take photos of the front and back of the dresses and get them approved by the associate principal, she said.
The ball will be held in July with its brother school, Liston College. The student said they were only allowed to take male partners from Liston. Same sex couples are also allowed.
Another Year 13 student, who asked not to be named, said she believed some dresses were "a bit out there" but disagreed with all the rules because the ball was "meant to be fun".
The 17-year-old said some parents were angry because they had already bought dresses. The school had not mentioned compensation for students who had already bought a dress which didn't fit the code. She said she believed students were expected to simply buy another dress.
Meanwhile, the girls were told they couldn't wear a dress with a low back because it would "look too sexual".
St Dominic's principal, Carol Coddington, said the ball rules reflected the school's responsibility to its students, and the fact most attending would be under 18: "In the 20 years that I have been principal, we have been proud of the way that almost every girl attending these functions has presented herself," she said.
The suggestion students had to be in "a serious relationship" in order to bring a partner was not well phrased, Mrs Coddington said.
"What we have told our students is that if they bring a partner to the ball they are personally responsible for that partner's behaviour. If that is inappropriate, they will both be asked to leave."
A student said they were told in assembly this morning, they were "not allowed to go to social media with school issues".
The new code has been met with disbelief on social media.
The new rules, which have come out just under two months before the school's winter ball, are being slated as extreme, sexist and extremely outdated.
- NZME.