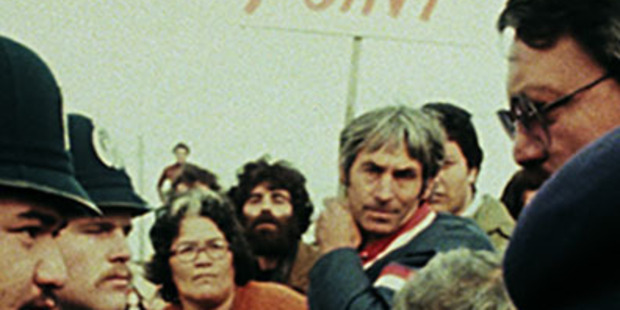 Just under 30 minutes of historic documentary will be publicly aired this Wednesday - 36 years after it's original, though very limited, release.
It will be a homecoming of sorts for the story of Bastion Point, a stark marker in New Zealand's race relations history.
This Wednesday, a restored version of the documentary Bastion Point - Day 507 will be gifted and screened for Ngati Whatua at Orakei marae by Nga Taonga Sound & Vision.
Wednesday is the 38th anniversary of the day when protesters occupying Bastion Point - or Takaparawhau - were evicted by police and armed forces, ending an occupation that had lasted 506 days.
The political climate of the time of it's production in 1980 meant Bastion Point - Day 507 was not able to be widely shared, and was for many years available to the public only through worn film prints and low-resolution video.
Nga Taonga film conservators have worked with the original cinematographer, Leon Narbey, to produce a beautifully restored digital version of Bastion Point - Day 507.
"In the spirit of giving back and building relationships, taking this beautiful restoration back to Ngati Whatua at Orakei is the right thing to do," said Nga Taonga Pou Arahi, Honiana Love.
Sharon Hawke - daughter of Bastion Point occupation leader Joe Hawke - said: "We are delighted and moved by the gesture to receive a copy of this powerful visual document.
"We are reminded that mainstream media refused to televise this back in the day for a decade. This is a major tribute to the late Merata Mita who fought hard to get this film finished and we honour her at this viewing."
On Wednesday, a Nga Taonga delegation, along with filmmakers Leon Narbey and Gerd Pohlman, will travel to Orakei to present and screen the documentary, and tell the story of its restoration.
Nga Taonga Sound & Vision is New Zealand's archive of film television and sound, with a collection of 750,000 titles spanning 120 years of recorded sound and moving images.
Merata Mita, Leon Narby and Gerd Pohlman's powerful documentary Bastion Point - Day 507 depicts the eviction of protestors from Bastion Point during the struggle for Maori land rights.
Nga taonga kaiwhakataki or programme coordinator, Lawrence Wharerau, said he has watched the footage many times but the restored version reveals faces he has never before identified.
That included Dilworth Karaka, one of the founding members of Herbs; musician and composer Taura Eruera; and Will Ilolahia, who was involved as a member of the civil rights activist group, the Polynesian Panther Party.
"I was never able to pick them out before, but the picture's that much clearer now," Mr Wharerau said. "The work that Leon and our conservators have done has re-instilled the mana and integrity of the film."
To restore the film, Nga Taonga moving image conservators spent weeks examining and preparing the original 16mm colour master negative and magnetic sound track, ready to be scanned frame-by-frame by our in-house technical experts.
Then in consultation with the film's cinematographer, Leon Narbey, Nga Taonga conservators and technical experts spent over 50 hours completing post-scanning work at Park Road Post Production in Miramar, including colour-grading, stabilisation and digital cleaning.
As with all archival restorations worked on by Nga Taonga, the goal was not to make the film look better than it did before, but to accurately reflect how the work appeared when it was originally produced.