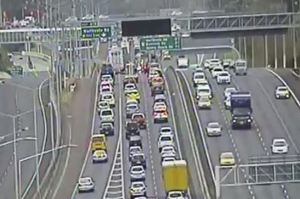 A number of on-ramps will be closed overnight this week to allow for motorway improvements.
The NZ Transport Agency says most closures start at 9pm and finish at 5am.
Drivers are advised to follow detour signs in affected areas.
Work delayed by bad weather will be completed at the next available date, prior to Friday, 27 May 2016.
NORTHERN MOTORWAY (SH1)
• Orewa northbound on ramp, 25 May
• Northbound lanes between Tristram Avenue off ramp and Upper Harbour Highway on ramp, 23 May (approx 10:30p.m. to 5:00a.m.)
• Tristram Avenue northbound on ramp, 23 May
• Tristram Avenue southbound on ramp, 22 May
• Northcote Road northbound off ramp, 22 May
• Northcote Road northbound on ramp 24 May
• Stafford Road northbound off ramp, 24 May
• Curran Street northbound on ramp, 24 May
CENTRAL MOTORWAY JUNCTION (SH1 & SH16)
• Cook Street southbound off ramp, 23 May
SOUTHERN MOTORWAY (SH1)
• Southbound lanes between Ellerslie-Panmure Highway off ramp and Mt Wellington Highway on ramp, 25 May (approx 11:00p.m. to 5:00a.m.)
• Ellerslie-Panmure Highway southbound on ramp, 25 May (approx 10:00p.m. to 5:00a.m.)
• Southbound lanes between Takanini off ramp and Papakura on ramp, 22 - 23 May (approx10:00p.m. to 5:00a.m.)
• Takanini southbound on ramp, 22 - 23 May
• Northbound lanes between Takanini off ramp and Manukau, 24 May (approx 10:00p.m. to 5:00a.m.)
• Takanini northbound on ramp, 24 May
• SH22/Drury northbound on ramp, 22 May
• Northbound lanes between SH22/Drury off ramp and Papakura on ramp, 22 May
• Bombay northbound on ramp, 23 & 26 May
• Northbound lanes between Bombay off ramp and Ramarama on ramp, 23 & 26 May
NORTHWESTERN MOTORWAY (SH16)
• Eastbound lanes between Brigham Creek Road roundabout and Lincoln Road on ramp, 22 May
• Hobsonville Road eastbound on ramp, 22 May
• Royal Road eastbound on ramp, 22 May
• Lincoln Road westbound on ramp, 22 May
• Westbound lanes between Lincoln Road off ramp and Brigham Creek Road Roundabout, 22 May
• Te Atatu Road eastbound on ramp, 25 - 26 May
• Eastbound lanes between Te Atatu Road off ramp and Te Atatu Peninsula on ramp, 25 - 26 May(approx 10:00p.m. to 5:00a.m.)
• Eastbound lanes between Patiki Road off ramp and SH1, 24 - 25 May (approx 10:00p.m. to 5:00a.m.)
• Rosebank Road eastbound on ramp, 24 - 25 May
• Great North Road eastbound on ramp 22 - 26 May
• Great North Road westbound on ramp 24 - 26 May
• Eastbound lanes between Great North Road off ramp and Western Springs on ramp 22 May(approx 10:00p.m. to 5:00a.m.)
• Eastbound lanes between Great North Road off ramp and SH1, 23 & 26 May (approx 10:00p.m. to 5:00a.m.)
• Westbound lanes between Great North Road off ramp and Great North Road on ramp, 22 May(approx 11:00p.m. to 5:00a.m.)
• Westbound lanes between St Lukes Road off ramp and Great North Road on ramp, 23 May(approx 11:00p.m. to 5:00a.m.)
• Westbound lanes between St Lukes Road off ramp and Patiki Road on ramp, 24 - 26 May(approx 11:00p.m. to 5:00a.m.)
• St Lukes Road westbound off ramp, 22 May (approx 11:00p.m. to 5:00a.m.)
• St Lukes Road westbound on ramp, 23 - 26 May
• Western Springs eastbound on ramp, 23 - 26 May
UPPER HARBOUR MOTORWAY (SH18)
• SH18 westbound to SH16 eastbound link, 22 May
SOUTHWESTERN MOTORWAY (SH20)
• SH20 southbound to SH1 northbound link, 23 - 24 May
• Southbound lanes between Massey Road off ramp and Puhinui Road on ramp, 22 May
• Massey Road southbound on ramp, 22 May
• SH20 northbound to SH20A westbound link
• Coronation Road northbound on ramp 24 May
• Northbound lanes between Coronation Road off ramp and Rimu Road on ramp, 24 May (approx10:00p.m. to 5:00a.m.)
• Hillsborough Road southbound on ramp, 25 May
• Dominion Road southbound on ramp, 24 May