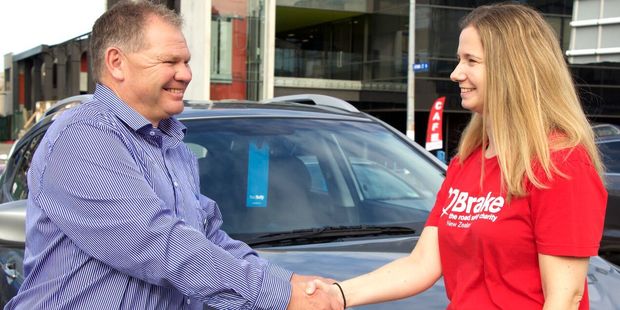 Road safety initiatives have been given a boost with support from a car rental company.
Thrifty Car Rental is backing New Zealand road safety by being a gold sponsor of Brake, the road safety charity which runs Road Safety Week, May 16-22.
Brake works to prevent road deaths and injuries and supports people bereaved and injured in crashes across New Zealand.
An international road safety charity, its New Zealand division promotes road safety and campaigns to reduce the carnage on New Zealand roads. It is also fundraising to improve support for families bereaved and injured in road crashes.
Thrifty Car Rental general manager Emma Gardiner said New Zealand's long-term road toll trending down but on-going road safety education and awareness is critical with increases in the population and more vehicles on the road.
"Supporting Brake and the work they do in raising road safety awareness is really important and a good fit for us," she said.
Thrifty is one of New Zealand's largest rental car companies and was seeking another nationwide charity that aligned with their brand values and had synergy with their business - ensuring safer driving for visitors to New Zealand and all Kiwis.
"If we can pass on road safety messages to our customers and staff it's one way of helping educate people and reduce crashes and road deaths," said Ms Gardiner.
Caroline Perry, Brake's Development Director said she was delighted to welcome Thrifty as a corporate partner of Brake.
"Our corporate supporters are vital in helping us to deliver our road safety initiatives and provide free support resources for bereaved families."
Thrifty's support includes sponsorship of Road Safety Week videos on key road safety messages, and the Fleet Safety Product Award at Brake's Australasian Fleet Safety Awards.
Thrifty staff will have opportunities to undergo defensive driving training and be encouraged to take the 'Brake Pledge' around speed, alcohol, seat belts, distractions and fatigue.
In return Thrifty will get access to road and fleet safety events and resources, and access to Brake's advice and expertise on road safety.
Road safety messaging is already in Thrifty rental vehicles, on the Thrifty website, in videos, brochures and in their booking offices throughout the country.
To support Brake, go to www.brake.org.nz.
Support books for children and adults bereaved in road crashes are available for free to families by contacting Brake on brakecharity@gmail.com or 021 407 953.
Brake was founded in the UK in 1995, and now has domestic operations in the UK and New Zealand, and works globally to promote action on road safety.
Road Safety Week is an annual nationwide event coordinated by Brake. It runs from May 16-22 and has the theme 'Be a #roadsafetyhero'.
Communities, educators and companies are encouraged to take part. Read more at www.roadsafetyweek.org.nz.
Latest road statistics here http://www.transport.govt.nz/research/roadcrashstatistics/