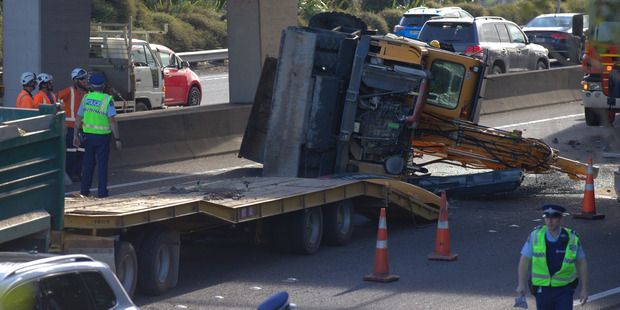 Charges could be laid after a truck and digger crashed into an overbridge, causing chaos on Auckland's main motorway for several hours on Monday.
At 1.15pm, the arm of the digger struck the Penrose overbridge, causing it to be knocked off its trailer on to two southbound lanes of the Southern Motorway.
Waitemata Police are investigating the incident.
The Waitemata Police Motorways team are reviewing CCTV footage and statements taken from witnesses and those directly involved in the crash.
Police have confirmed that the load was overheight and witnesses have described seeing the high-visibility LED early warning signs activate as a result, on the driver's approach to the bridge.
Inspector Trevor Beggs, Road Policing Manager, Waitemata Police said the police would like to thank the many thousands of motorists who exercised patience and consideration when caught up in the ensuing gridlock.
"The roading gridlock that followed led to thousands of motorists being inconvenienced and we would like to thank every person who calmly endured the delays for their patience," Inspector Beggs said.
"Police want to assure the motoring public that anyone found to be responsible for the crash and the resulting traffic disruption will be held fully to account."
- NZME.