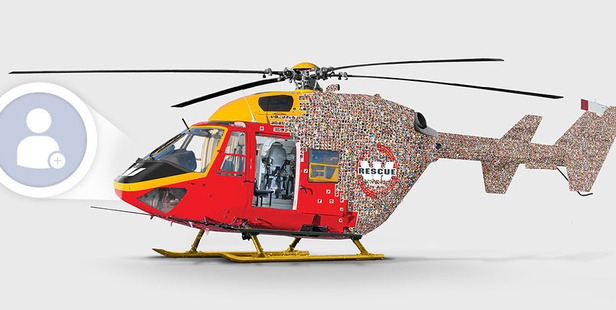 Auckland Rescue Helicopter Trust is giving away spots on the side of a rescue helicopter to recognise supporters.
Everyone who donates online at www.chopperappeal.co.nz during May will have the unique opportunity to upload their Facebook profile picture and the trust will print it on one of NZ's rescue helicopters, making it The People's Chopper.
The People's Chopper will be around for New Zealand to check out throughout June, including at the National Fieldays at Mystery Creek. There will also be photos and video of The People's Chopper on Facebook and Instagram.
More than 7590 rescue missions were undertaken by local rescue helicopters around New Zealand last year including 1060 in the Auckland region.
As part of this month's nationwide Westpac Chopper Appeal, the Auckland Rescue Helicopter Trust is asking Aucklanders to give generously to get behind their local helicopter.
The appeal aims to raise funds and continued awareness for the 16 rescue helicopter services operating around the country with all donations going back to the region they are collected from.
Westpac's Director of Corporate Affairs, Sue Foley, says the country's rescue helicopter services often make a life or death difference for many New Zealanders.
"The rescue choppers are intensive care units providing a dedicated 24-hour, seven-day-a-week service. Without them, the reality is many Kiwis could lose their lives because help cannot reach them in time."
Ms Foley says sadly there will be thousands who will need their local chopper over the coming year and that is why we should all support this amazing service.
"We never know whose turn will be next to need the service which is why it's important we all give generously as every donation counts."
The choppers respond to medical and accident emergencies where getting to hospital as quickly as possible can make a big difference to the health and recovery of patients.
The majority of funding for this unique service comes from the community - from sponsors like Westpac, a proud supporter for 35 years, and other fundraising activities.
Auckland Rescue Helicopter Trust chief executive Greg Barrow said: "We're continually overwhelmed by the generosity of locals, and are very proud to have the support of our community. It's these donations that allow us to carry out our rescue missions on a daily basis making a huge difference in many people's lives. Every donation matters, whether it's a gold coin or $1000, it keeps us flying 24/7."
Running throughout May, the Westpac Chopper Appeal is supported by open days at the helicopter bases, a variety of fundraising activities in schools and community centres, as well as a nationwide street appeal on Friday, May 6.
Westpac funds the marketing and administration costs of the Appeal, and distributes 100 per cent of funds raised back to the local rescue helicopter trust.
Donations for the 2016 Westpac Chopper Appeal can be made:
• at any Westpac Branch
• on the web at www.chopperappeal.co.nz to get your Facebook profile picture printed on the side of The People's Chopper