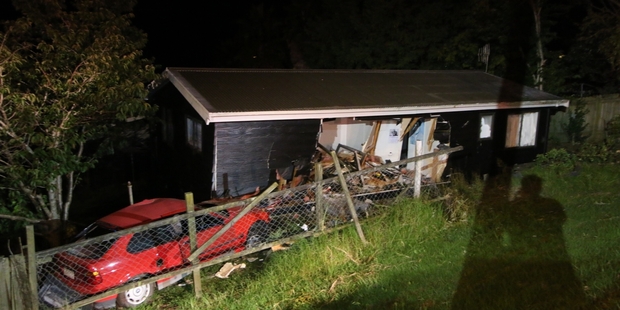 A dog walk may have saved the lives of a mother and daughter who had just left their home when a car crashed into the side of it.
It is understood the mother and daughter had only just taken their dog for a walk on Saturday evening and were believed to have been headed up the road to get a takeaway dinner when the incident happened.
Police were called to the scene on State Highway 1 in Wellsford shortly before 7pm after the car veered off the road and down a hill, crashing into the house.
The impact left a gaping hole in the house with wood and debris covering the floor.
The female driver was airlifted to Auckland City Hospital in a status two condition.
Neighbour Lynette Gawn said the mother and daughter had returned home to find the side of the mother's house "wiped right out".
"She is a bit shaken up but she is staying at a friend's house for the night.
"The whole side of the house was wiped right out. She was [upset] at first but then she calmed down and yeah, she has had a bit of a run of bad luck," Gawn said.
"She walks her dog every night. The car hit the side of the house where the daughter's room is.
"It wiped out the bathroom, the toilet and the wash house and the impact smashed all the windows on that side of the house."
Gawn, who was one of the first people on the scene, said she had heard the crash and went outside to investigate.
"We heard the impact. My son aided [the driver] and then I sat with her and got a blanket to keep her warm until the fire and ambulance arrived."
Inspector Chris Tate of the police northern communications centre yesterday said the woman's condition had worsened.
"She had been helicoptered back to Auckland and her condition has deteriorated," he said. "I think it is serious causing concern now."
The Serious Crash Unit is investigating the incident. NZME
- NZME.