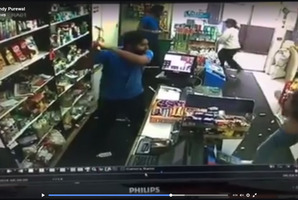 South Auckland dairy workers defended themselves with hockey sticks from a group of 10 teens who stormed the shop, taking $2500 worth of items.
Co-owner of Redhill Superette in Papakura, Indy Purewal, said store workers refused to sell the teens cigarettes them as they didn't have identification.
A youth took a worker's iPhone6, while another grabbed a large handful of cigarette packets.
Watch as the teens ransack the shop:
- NZME.