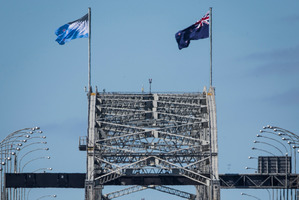 Returned votes on the flag referendum have surged past the 1.2 million mark.
Updated figures from the Electoral Commission show close to 230,000 voting papers were received on Friday, bringing the total to 1,201,841.
At the same stage in the first referendum, just under 800,000 votes had been returned. A total of 1,546,734 Kiwis voted in the first referendum, and voter turnout was nearly 49 per cent.
The Government has said it expects much greater voting numbers in the current referendum, given the fact those strongly opposed to a flag change were more likely to vote.
People are encouraged to post their voting papers back by Monday, March 21, to ensure they arrive in time.
Voting closes on March 24. The result will be revealed on March 30.
The process has prompted fierce debate.
The biggest disagreement has been about whether the flag should be changed at all. Polling has consistently shown a majority of voters prefer the current flag.
- NZME.