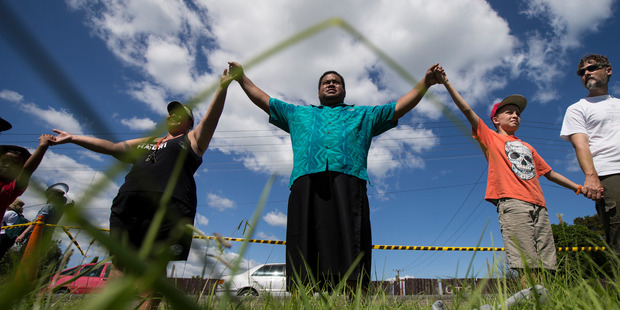 About 300 people held hands in Mangere yesterday in a bid to stop a housing project on what an archaeologist described as "the paddock next to Stonehenge".
Fletcher Building has gained Special Housing Area status for a planned 480 homes on the 32ha site next to the Otuataua Stonefields Reserve near Auckland Airport.
Former Conservation Department regional heritage manager Dave Veart told protesters that the land was of international significance.
"About 100,000 years ago our deep, distant ancestors set off [from Africa] to colonise the world. They moved out and the last place on the planet they reached was Aotearoa, and one of the first places in Aotearoa that they reached was here."
The foundations of houses and gardens using the area's natural volcanic scoria dated back 700 years, to the earliest stage of Maori settlement, showing "incredibly intensive" agricultural land use over hundreds of years.
The 100ha closest to the Manukau Harbour were bought by the old Manukau City Council in 1999 and have been protected as a heritage reserve since 2000, but Mr Veart said the plan always was to buy the adjoining land eventually.
"The plan was to purchase it, Manukau City put aside funding to do that, but that got lost in the creation of the Super City."
The development block contains at least two lava caves that Maori used as burial sites, and Fletchers has agreed to add that part of the site to the reserve. But Mr Veart said there were almost certainly items of archaeological significance on the rest of the site.
"The point is we don't know enough about it to make any decision, the amount of investigation done is minimal," he said.
Save Our Unique Landscapes (Soul) member Pania Newton said commissioners, who heard Fletchers' application for consents to develop the site last month, were still waiting for Auckland Council to respond to evidence given at the hearing. NZME
- NZME.