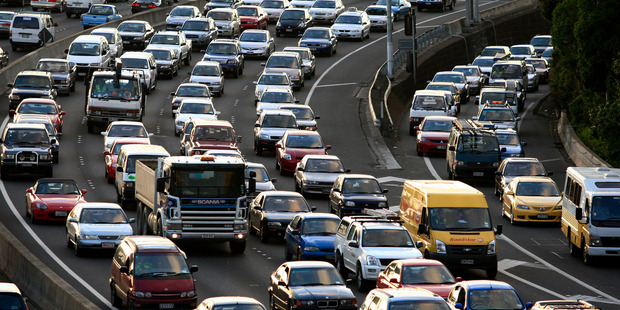 The parents of baby Tim, born on the side of an Auckland motorway yesterday, have described how the city's slow traffic stalled their trip to hospital.
Tim was born in the back seat of his parents' car about 9.45am, on the side of the Southern Motorway near Market Rd.
Mum Olga Ivanova went into labour about 7am and with husband, Ivan, headed to hospital.
But the traffic was not on their side. Crawling along at 35km/h, Mr Ivanova pulled over and phoned for help.
"I called 111 and they were really nice and walked me through everything," Mr Ivanova told One News. "She said, 'the baby's coming out'."
Within 10 minutes, an ambulance arrived.
"I felt relieved because everything was my responsibility ... We knew that they would take care of her," said Mr Ivanova, who with his wife moved to New Zealand from Russia three years ago.
"It definitely was a crazy experience, not something that you experience every day."
Tim popped out just five minutes after paramedics turned up. St John ambulance officer Dylan Wilde said Tim's umbilical cord was tied around his back, but it was otherwise a routine birth.
Temporary lane closures caused some delays for city-bound traffic but the NZ Transport Agency took it in good humour, tweeting: "It's a boy."
Tim and his mum were taken to Auckland City Hospital but were back home last night.
"It must have been frightening for both the mum and dad to be giving birth on the motorway.
"Certainly not part of their birth plan. So to bring them some calm and deliver their baby was really special," Wilde said.
"I'm really pleased that mum and baby boy are doing so well."
- NZME.