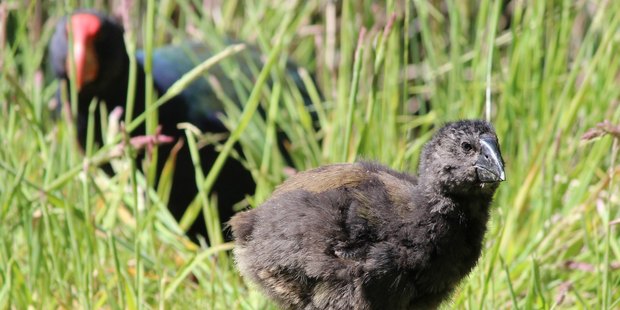 A takahe chick has been hatched on pest free Motutapu, a further step in establishing the island as a key breeding site for the critically endangered native bird.
The total takahe population sits at 283, 20 of these adult takahe are living on Motutapu, a half hour ferry ride from downtown Auckland.
The first takahe were released on Motutapu on August 27, 2011, when Motutapu and Rangitoto - the islands are connected by a short bridge - were declared a pest free sanctuary.
Takahe were once widespread throughout New Zealand but have been brought to the brink of extinction by predators - particularly stoats - and the destruction of their habitat.
"We're thrilled to see a takahe chick hatched and faring well on Motutapu," says Deidre Vercoe, manager of the Department of Conservation Takahe Recovery Group.
"This is a tribute to our work with the Motutapu Restoration Trust, Ngai Tai ki Tamaki, Ngai Tahu and Mitre 10 to build a breeding population of takahe on the island.
This is a key part of our programme to secure the survival of this unique New Zealand bird."
"We have seven breeding groups of takahe on Motutapu. All of them sat on nests this breeding season. One breeding group has hatched and is successfully raising a chick. It's fantastic to see these special birds making the island their home," says Motutapu Restoration Trust chair Brett Butland.
"We welcome the birth of this takahe chick on Motutapu. The island plays a vital role in the Takahe Recovery Programme. Removing stoats and other predators has created a sanctuary that's enabling this taonga to thrive on the island," says Ngai Tai ki Tamaki Tribal Trust chair, James Brown.
Takahe usually breed as pairs but sometimes form extended family groups to hatch and raise chicks. The chick on Motutapu was hatched and is being raised by two female takahe - Charlie and Emelius - and a male called Bradshaw.
Charlie and Bradshaw were hatched at DOC 's Burwood Takahe Centre near Te Anau. Emelius was hatched at Maungatautari pest free sanctuary in Waikato and moved to Burwood as a chick. Charlie, Emelius and Bradshaw were all released on Motutapu in November 2012.
Takahe chicks are dependent on their parents for at least a year. They're included in the takahe population figure when they reach a year old. Their peak breeding age is five to 14 and they can live up to 20 years.
Takahe begin breeding in September and continue breeding through the summer months. The 2015/2016 breeding season produced almost 40 takahe chicks at secure sites, a record for the Takahe Recovery Group.
"Motutapu has good existing habitat for takahe. We're working with the Motutapu Restoration Trust to expand this habitat so we can accommodate 20 to 25 breeding pair of takahe on the island," says Deidre Vercoe.
"Our volunteers are planting native plants to provide the cover and food source takahe need to survive on Motutapu," says Brett Butland.
Takahe like a semi wetlands habitat. They're flightless, build nests on the ground from tussock and other grasses and need vegetation cover for their eggs and chicks. They eat the stems of tussock and other grasses.
Motutapu Restoration Trust volunteers have established a nursery and planted half a million native plants and trees on the island. This has provided a home for threatened native birds - takahe, Coromandel brown kiwi, shore plover/tuturuatu, tieke/saddleback and whiteheads/popokotea - released on the island since it was declared pest free in 2011.
Mitre 10 has been working in partnership with DOC to save takahe since 2005. Mitre 10 has provided more than $1 million dollars for this work through the Mitre 10 Takahē Rescue programme. Support from this valued partnership has been critical in the recovery of this species.
The Mitre 10 partnership has enabled DOC to:
· Purchase incubators for hatching at the Burwood Takahe Centre near Te Anau.
· Construct new holding pens and enclosures so chicks can grow to a size that improves their chances of survival once they are released back into the wild.
· Develop vaccination and disease risk screening programmes to prevent illness in takahe.
· Improve the monitoring and control of takahe predators particularly stoats.
· Upgrade breeding units at Burwood Takahe Centre.
· Move takahe to safe predator free islands -Motutapu, Kapiti, Maud, Mana and Tiritiri Matangi.