AA advises drivers to plan in bid to avoid major congestion on roads.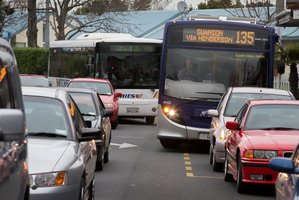 Commuters are being told to plan ahead for tomorrow as many Auckland bus services won't run due to industrial action.
Drivers employed by NZ Bus are taking industrial action from 4am on Friday until 4am on Saturday. In a separate dispute some drivers employed by Howick & Eastern will walk off the job from 5.30am on Friday till 5.30am on Saturday.
Services affected are Metrolink, Go West, North Star, Waka Pacific, CityLink, InnerLink, OuterLink, Howick & Eastern and school buses operated by NZBus.
All other bus, train and ferry services will operate as normal. There may be other bus options available in some areas including: Ritchie's, Birkenhead Transport, Tranzit (Airporter), Bayes, SkyBus, Murphy, Northern Express, Urban Express, Waiheke Bus Company as well as train and ferry services.
Auckland Transport's Bus Services Manager, Brendon Main, says: "We are sorry but services will be limited on Friday, the roads will be busy and there will be delays.
People should consider options such as travelling outside peak times, sharing rides, cycling or walking. People should also talk to their employer about their work situation on Friday."
Mr Main says AT staff will be on duty at some busy locations to assist customers with information and advice. Updates will be provided on the AT website, Twitter and on radio and TV traffic bulletins on Friday.
Customers are advised to check with the Auckland Transport call centre (09-366-6400) or AT.govt.nz website before making travel plans to find out if services are available.