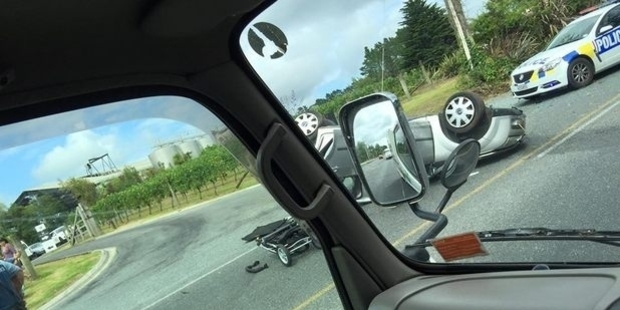 A baby boy is lying seriously ill in Starship after the car he was in crashed during a police chase.
The five-month-old was in the rear of a silver car which rolled onto its roof after the the driver lost control on State Highway 16, near Kumeu, just before 11am yesterday. A witness described skid marks 200m long at the crash scene.
The baby was flown by Westpac Rescue Helicopter to Starship children's hospital and a hospital spokeswoman said he was in a stable condition.
Police confirmed the male driver of the car, who has been arrested and is under police guard in Auckland Hospital, was fleeing police when the crash occurred outside Cooper's Creek Vineyard. He has moderate injuries, and a woman sitting in the front seat was also taken to Auckland Hospital with moderate to minor injuries.
Police say they had no idea there was a 5-month-old baby in the car that crashed while they were pursuing it.
Inspector Mark Fergus says the incident began when a police patrol clocked the car being driven at 124km/h near Waimauku. The driver initially pulled over for police, but then sped off as officers approached.
Police followed the car for five minutes, with the fleeing driver hitting speeds of up to 150km/h before it crashed and rolled onto its roof in Kumeu.
No other vehicles or people were involved, police said.
A photo of the car posted on the Waimauku Facebook page showed it lying upside down and with what looked like a pram next to it.
Elaine Chamberlain walked past the crash and saw skid marks diagonally across the road. The car was "completely destroyed", she said. "Its windows are gone and doors are smashed in."
A large number of emergency services' staff also attended the crash, including six St John ambulances and firefighters.
A witness told Newstalk ZB people were being arrested and a nearby resident described watching a police car "racing in one direction" just before the crash and, afterwards, a number of other police cars come from the opposite direction.
The man, who did not want to be named, described the scene after the crash as "full on".
Horror crash survivor Pauline Bradley also saw the crash scene, and said it brought back memories of the head-on smash nearby that almost took her life just before Christmas.
"It all came flooding back."NZME
- NZME.