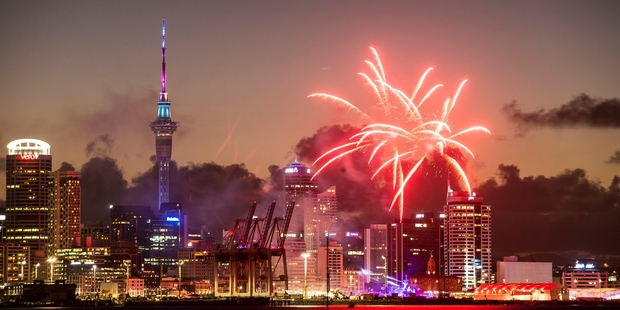 A public fireworks display in Auckland was cut short Sunday night after hot embers started showering down on thousands of people gathered to see the spectacle.
At least four people were treated by ambulance staff with suspected eye injuries and one woman was taken to Auckland Hospital when an unexpected wind shift caused sparks to drift back on the packed crowd watching the Auckland Anniversary Weekend display.
At the time the Captain Cook Wharf was at capacity, with an estimated 6000 people watching an evening concert by the Auckland Symphony Orchestra that ended with an explosive eight-minute-long pyrotechnics finale.
But midway through the closing, rousing refrains large sparks began falling across the darkened wharf, injuring a handful of people looking skyward.
As people left the wharf, injured spectators were seen lying on stretchers in waiting ambulances, their eyes covered with large white eyepatches.
Ports of Auckland spokesman Matt Ball said a small number of people with minor eye injuries were taken to hospital. They needed to have their eyes flushed after being injured by stray sparks from the fireworks.
Mr Ball said a number of precautions were taken ahead of the display including safety zones to keep the public well back from where the display was set up at the farthest end of the wharf. However, an unexpected change in wind direction during the pyrotechnics put the public at risk and a decision was taken to end it prematurely. NZME
- NZME.