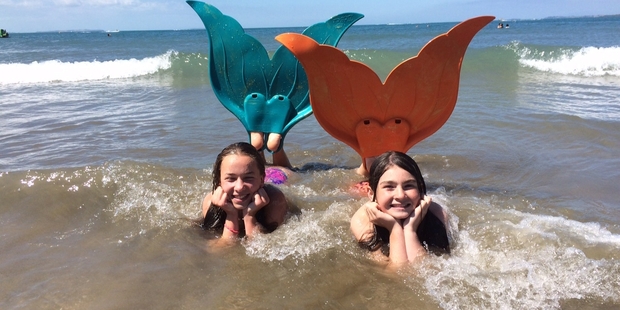 Mermaid tails have been banned from Auckland Council leisure centres and pools because of safety concerns.
An announcement on the Stanmore Bay Pool and Leisure Centre Facebook page tells visitors: "We wish to advise our customers that ALL mermaid tails and fins are no longer permitted in any Auckland Council leisure facility.
"The ban is in response to the dangers associated with the products: they hinder the ability for children to move their legs while swimming and they promoted prolonged under-water swimming which can lead to shallow water black-outs."
The mermaid fins have become popular around the world with both adults and children.
The tails - available in different colours and designs - give the illusion of a mermaid swimming in the water, with a swimmer's legs bound inside.
Many people have supported the new ban, dubbing the fins dangerous.
Kelly Davis wrote: "Dangerous, stupid toy. Water is dangerous enough without restricting the poor kids' legs."
Someone else labelled the devices "shocking toys" and another parent said: "It's basically like swimming with your legs tied together."
But other members of the public were upset for a different reason, saying having a blanket ban on the devices was unfair.
Rachel McDonald said it was "PC gone wrong".
"Well this absolutely sucks. There is a website associated with the sale of these products which issues both swimming tests before being allowed to use them - followed by swimming tests in the fin before you are allowed to let them swim." NZME
- NZME.