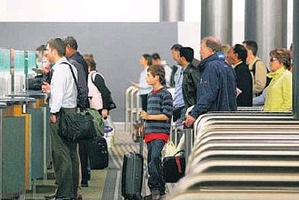 New settlers from Asia are giving the regions a wide berth, with migrants from the two main source countries preferring to set up home in Auckland.
Measures aimed at improving the spread of migrants across New Zealand were introduced last November, but new data reveals that seven in 10 migrants from China - the country's largest source of permanent migrants - are not opting to live anywhere else but Auckland.
AUT University Professor of Population Geography Richard Bedford said New Zealand's largest city is the preferred choice for migrants from China, India and other Asian countries.
"They concentrate on Auckland because of the sorts of work they want, the concentrations of their co-ethnics and, for Indians and Chinese, this is New Zealand's only sizeable city."
The percentage of migrant applicants claiming points for employment outside Auckland has been declining.
In 2004, two out of three principal applicants claimed points for work offers in the regions, but that fell to 51 per cent in 2012.
There was a two point increase in the 2013-14 year to 53 per cent, which Professor Bedford attributed to the Canterbury rebuild.
In 2014, seven out of 10 principal applicants from the UK claimed points for employment outside Auckland, while it was the reverse for the Chinese with 68 per cent choosing Auckland.
"The migrants from Western countries tend to be attracted to the same things as New Zealanders, after all, they are not just coming to NZ to work in Auckland," said Professor Bedford.
But with China now displacing the UK as the main source country for migrants, and more migrants coming from Asia, Auckland will become more diverse, while the regions remain largely "white".
Changes to policy include tripling the bonus points for skilled migrants with job offers outside Auckland and doubling of points for entrepreneurs planning to set up businesses in the regions.
India is now the second largest source of migrants, ahead of the UK and behind China.
Migrant groups who are most likely to settle in the regions are Australians, Germans (70-71 per cent) and South Africans (50 per cent). NZME
- NZME.