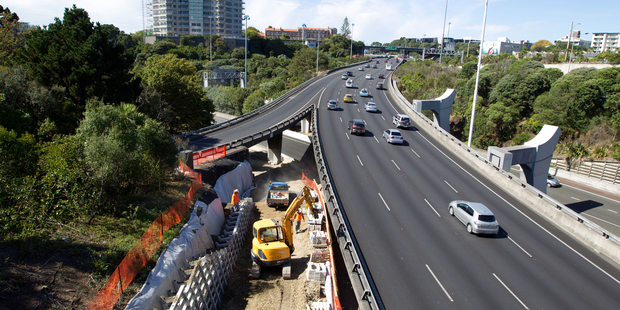 Auckland's new $11 million cycleway through Grafton Gully is due to open on Saturday next week without a link to the neighbouring university.
That is despite a hope that students will be among its main users, taking advantage of the security of an off-road bike path to avoid traffic on busy Symonds St.
The Transport Agency is still promising a direct link from the bikeway to Auckland University, but says that will take another three or four months to build after land easement negotiations can be completed with that institution.
Students unwilling to keep risking life or limb on Symonds St will until then have to ride downhill on the cycling "superhighway" to Grafton Rd, before back-tracking up a rise to their lectures.
Although the Transport Agency owns most of the cycleway's 1.9km route from Upper Queen St, as part of its motorway corridor, it had initially hoped to gain an easement to branch off to the university via a ramp near the southern side of Wellesley St.
An underpass its contractors have built beneath Wellesley St means cyclists will otherwise have to keep riding downhill.
But agency highway manager Brett Gliddon has revealed, after the Herald noticed no ramp at Wellesley St, a plan for an alternative access point further uphill at Whittaker Place.
That will be an s-shaped bridge about 40 metres long, expected to add about $1 million to the $11m project cost.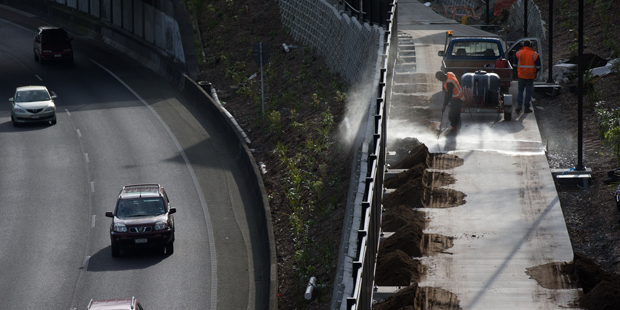 Photo / Richard Robinson
Mr Gliddon said the ramp was re-designed for that location to avoid having to chop down several heritage trees from university land at Wellesley St, and to provide smoother access for cyclists.
"The steep topography would have required the Wellesley St ramp to be constructed as a series of steps," he said.
A university spokeswoman said its property manager had told her an easement had already been granted.
But Mr Gliddon said negotiations with the university were in their final stage, although his organisation had obtained necessary consents to start construction once a deal was sealed.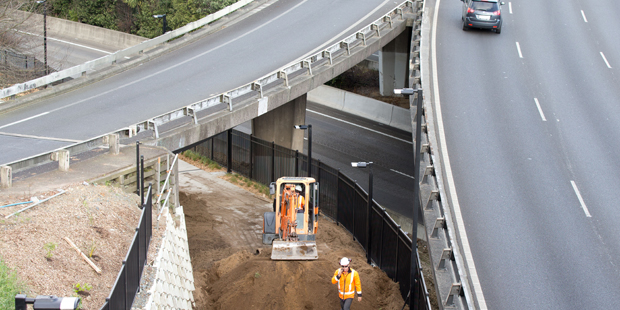 Photo / Richard Robinson
The new 3m-wide bike path will form an extension of the 13km Northwestern Cycleway from Te Atatu, and has included a major reconfiguration of the Upper Queen St bridge over the central motorway junction, on which road space has been narrowed in favour of wide stretches of concrete for riders and pedestrians on both sides.
It will be opened in conjunction with a 500m two-way "protected" bike path built by Auckland Transport for $2.7m at its northern end along Beach Rd, Mahuhu Cres and Tapora St to Quay St on the waterfront.
That project, the first of its type in New Zealand, includes new bike and pedestrian crossings of Beach Rd opposite Mahuhu Cres and of Quay St.