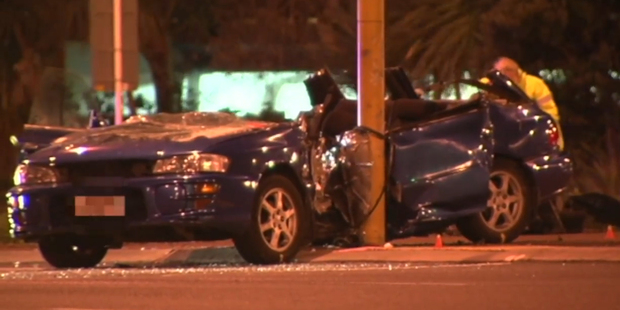 A 13-year-old and two 15-year-olds remain in hospital after crashing their suspected stolen car into a pole during a police pursuit.
The 15-year-old front seat passenger was last night in critical condition, following the smash on the North Shore about 12.40am yesterday.
He was rushed to Auckland Hospital along with the 15-year-old driver who had minor injuries.
The 13-year-old backseat passenger was taken to Starship hospital with moderate injuries.
North Shore area commander Inspector Shanan Gray said the period between the police car turning on its lights and the boys' car crashing was very brief.
"The pursuit appears to have lasted less than a minute. Initial indications would say that speed was a factor."
The pursuing officers - who arrived on the scene almost immediately and began administering first aid - were shaken by the crash, he said.
Police said the patrol car noticed the Subaru the teens were in was being driven erratically down Hurstmere Rd, about 12.40am.
It was travelling in the opposite direction to the police car.
After initially losing sight of it, police spotted it again near the Milford Town Centre.
They activated their lights and sirens, but the driver failed to stop.
However, it crashed moments later at the intersection of Wairau and Shakespeare Rds.
Mr Gray said early indications were that police pursuit policy was complied with.
He said the car was allegedly stolen from a Devonport address around midnight.