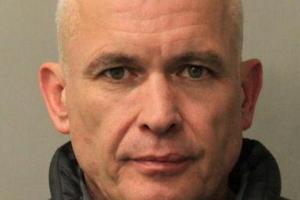 Waitemata Police have this afternoon arrested Michael John Hindman, a wanted man who has been on the run from Police for several months.
The 55 year-old, who was wanted for breaching his release conditions, was arrested late this afternoon at a house in Glenview Road, Glen Eden.
Officers from the Waitakere Police Tactical Crime Unit and the Armed Offenders Squad surrounded the house around 1pm this afternoon.
Several appeals were made for Hindman to give himself up, however teargas was required to be deployed, and a short time later Hindman was taken into custody without further incident.
He will appear in the Waitakere District Court tomorrow morning.
Two people who were inside the property and were affected by the teargas were given medical treatment at the scene.
Another two people who were also at the property were spoken to by Police and all four were released without charge.
Detective Inspector Bruce Scott, Waitemata Police says the arrest came about following an intensive investigation;
"This is the result of some very hard work by our officers in the Waitakere Police Tactical Crime Unit.
We're extremely pleased that he's been caught and I'm sure the wider community will be too" .