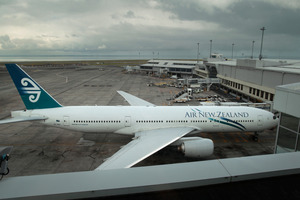 Health authorities have issued a new measles alert for passengers travelling on two domestic Air New Zealand flights and one international Singapore airlines flight.
Auckland Regional Public Health Service (ARPHS) says that passengers on the following flights have been exposed to measles:
• Air New Zealand flight NZ501 from Auckland to Christchurch, departing 6.50am on 2 March;
• Air New Zealand flight NZ548 from Christchurch to Auckland, departing 6.55pm on 4 March;
• Singapore Airlines flight SQ285 from Singapore to Auckland, departing 4 March.
"We can confirm there was a person with measles, who was not a confirmed case at the time of flying, but who would have been infectious at the time of travel on the two Air New Zealand flights," reports Medical Officer of Health Dr Richard Hoskins.
In addition, a person with measles on the Singapore Airlines flight was also infectious at the time of travel.
It can take 10-14 days for someone who has caught measles to start showing any symptoms. Anyone on these flights who may have caught measles should be starting to feel unwell, if they're not already, between 11 and 18 March.
"Passengers who sat nearest these cases have the highest risk and are our first priority," says Dr Hoskins, "and their local public health service will try to contact them if they might be susceptible. However because measles is an infectious, airborne disease, we want all passengers to be aware and vigilant."
Any passengers from this flight who feel unwell should phone their GP or call Healthline on 0800 611 116 for advice. It is vitally important to call first before seeing a doctor because measles is highly infectious, and people with measles can infect others in the waiting room.
Please see our website for measles symptoms and an update on the current numbers: http://www.arphs.govt.nz/health-information/communicable-disease/measles
Measles is a serious illness, says Dr Hoskins, and there is no treatment. "The only way to avoid catching measles is to have had two measles vaccines after your first birthday. Please check with your GP to see if you and your family are protected."