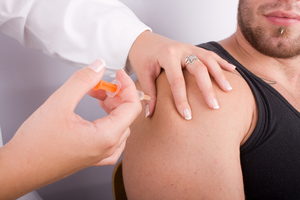 Churchgoers have been asked to consider isolating themselves at home after a person with measles attended a central Auckland service.
The Auckland Regional Public Health Service issued the urgent alert this afternoon after it was notified of a case of measles in a person who attended the Victory Christian Church in Freemans Bay on January 19.
Measles is a highly infectious disease, and starts with a high fever, which in non-immune people develops about 10 days after exposure to the virus.
Authorities recommend that those who attended Victory Christian Church between 10.45am and 1.30pm on January 19, and who were unimmunised or unsure of their immune status, isolate themselves at home should they develop any measles symptoms before next Monday.
After a fever, measles symptoms can include a runny nose, cough, red eyes and small white spots inside the mouth. A red blotchy rash on the neck and face appears three or four days later before spreading to the rest of the body.
Medical Officer of Health Dr Cathy Pikholz said immunisation was the only way to prevent the disease.
"Measles is one of the most contagious vaccine preventable diseases. It moves fast. One person with the measles can infect many others.''
New Zealanders who are not immunised, have only had one measles immunisation, and were born after 1968 are most likely to be susceptible to measles. Before 1969 almost everyone contracted measles as a child.
Anyone who notices measles symptoms should contact their GP or Healthline on 0800 611 116 - it is important to phone ahead to avoid spreading measles in waiting rooms or emergency departments.
Measles immunisation is available from any GP or family doctor.
Earlier this month authorities began tracking 226 passengers on the same flight as a baby with measles. Parents of the sick 7-month-old sought medical attention after arriving at Auckland International Airport on a Singapore Airlines flight.
Shortly before that case, 10 cases of measles were confirmed in Auckland, Turangi and Taupo after New Zealanders returned from the 2013 World Supremacy Battleground hip-hop competition in Sydney where an infected person performed.
- APNZ