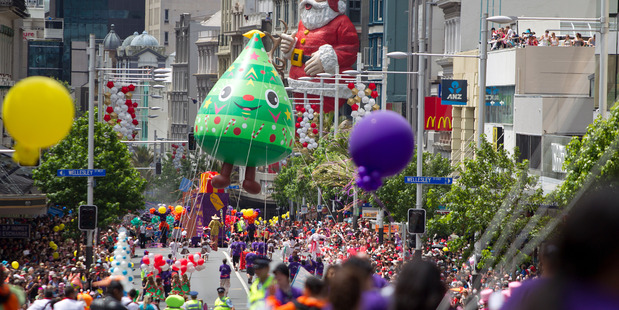 The countdown is on for this weekend's Farmers Santa Parade.
The parade starts at 2pm on Sunday 24th November 2013 and ends at approximately 3.30pm with Santa's Party from 3.15pm to 5.15pm in Aotea Square.
The Parade will go ahead in light rain.
In the event of rain a cancellation will be announced on Newstalk ZB after 10am on Sunday 24th November 2013.
The Parade rain date is Sunday 1st December 2013.
Collectors for the Child Cancer Foundation will ask the waiting crowds prior to the start of the event for a gold coin donation.
Free parking is available at the following Auckland Transport Park Right Car Parks:
- Downtown
- Victoria Street
Parking will be FREE for vehicles exiting between the hours of 12 noon and 6pm, please check www.aucklandtransport.govt.nz/moving-around/parking for hours of operation.
All inner city roads are closed between 12.00pm and 4pm on Sunday 24th November 2013. People are advised to get into the city before 12 noon to avoid frustration with traffic and parking.
Police ask that all Parade spectators stay behind the line while watching the Parade.
For information on Bus, Train and Ferry schedules and fares including family and group passes visit www.at.co.nz or call the AT Public Transport Contact Centre on 09 366 6400.