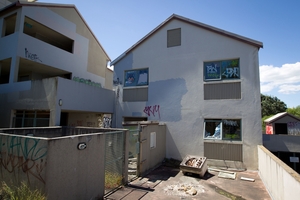 Kelston neighbours are up in arms about Pepperwood Mews, the deserted West Auckland apartment block which they say is blighted by street kids and crime.
Ted Jarvis, programme manager of the Silverfern Motorsport Charitable Trust across the carpark from the empty residential buildings on Great North Rd, said people in the area wanted action because the buildings were a negative influence.
"None of us like it because we want it fixed or gone. It's an eyesore for the whole of West Auckland and everyone knows it's a leaky building," he said.
The trust, started in 2010, provides training and education to at-risk youth and Mr Jarvis said attendees were barred from entering the derelict buildings, once leased to Housing New Zealand tenants.
"My boys are not allowed near there because there's all sorts of things happening," Mr Jarvis said.
Locals often saw a young woman soliciting, then taking clients into the graffiti-bombed mews, he said.
Neighbour Robert Cameron of Expert Mower & Chainsaw Services said police were called after a man with a hacksaw up his sleeve approached the buildings. Mr Cameron has received a letter, saying he is an informant to appear in a court case over that, due to be heard on June 26 but delayed.
Teenagers smoke dope in the buildings where fittings have been torn out, including windows, doors and wiring, Mr Cameron said.
An Auckland Council notice posted on the buildings' exterior says it is deemed dangerous. An internal basement carparking area is strewn with bottles, boxes and rubbish bags.
Adrian Chitty, who owns one of the apartments, said mediation over the property was scheduled for next Wednesday before Warren Sowerby in Shortland St.
That was in an attempt to get money for owners, Mr Chitty said.
Owners, via their body corporate, were seeking to settle with Auckland Council over its role in the buildings and Housing New Zealand for agreeing to lease the places for state tenants, then leaving.
Housing NZ has previously denied any liability over the property.
Residents moved out in 2009 after the $12 million complex was condemned as structurally unsound.
Mr Chitty said if next week's mediation failed, the body corporate was headed for the High Court.