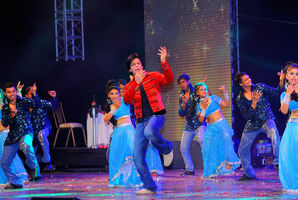 Fans hoping to get a glimpse of 'The King of Bollywood' Shah Rukh Khan are being told to stay away from Auckland Airport.
The star is due to arrive for his show 'Temptation Reloaded' at Vector Arena this week along with other big names in Bollywood.
'Temptation Reloaded' is billed as the biggest Bollywood production ever to come to New Zealand, complete with stunning visuals, state of the art production, pyrotechnics and stunning costumes.
Citing safety concerns Auckland Airport's Corporate Affairs Manager Simon Lambourne said there would be no opportunity to see the stars when they touch down in Auckland.
"Due to public safety and airport operational concerns this week's arrival and departure of the celebrities will now take place in private."
"Fans are advised not to come to the airport as they will not be able to see Mr Khan and the other Bollywood celebrities." Lambourne said.
The Los Angeles Times has called Shah Rukh Khan "the world's biggest movie star" and Newsweek has named him one of the Top 50 most powerful people in the world.
He has an estimated net worth of over US $549 million and is the face of brands such as Pepsi, Sprite, Nokia, Hyundai, Compaq and Tag Heuer.
Joining the King Of Bollywood Shah Rukh Khan, and one of India's most popular actresses Madhuri Dixit are, Rani Mukerjee and Jacqueline Fernandez.
Temptation Reloaded has sold out in 12 countries around the world and his Vector Arena show on October 4 is expected to do the same. Ticket are available from www.Ticketmaster.co.nz .