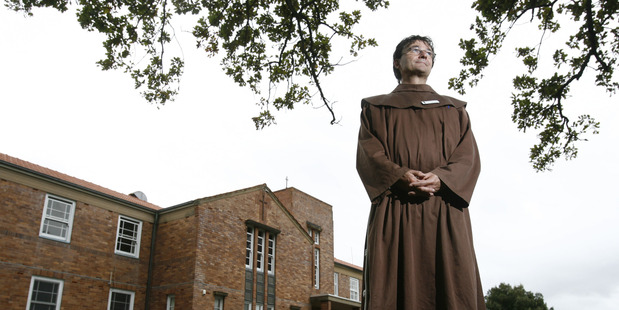 The three Franciscans who live a simple and humble life at their Mt Roskill monastery are nevertheless well in touch with modern times, reports John Landrigan.
What do you give someone for their 800th birthday? Last Thursday, at their picturesque and tranquil monastery in Hillsborough, the three Auckland members of the St Francis of Assisi religious order marked eight centuries of dedication to God and the community in their age-old way.
They prayed and renewed their vows of poverty, chastity and obedience.
The church honours the 13th- century Italian - who abandoned his possessions and dedicated his life to God - as the patron saint of animals and ecology.
He established the Friars Minor, or Franciscan Friars, in 1209. The local order set up its Catholic monastery at Mt Roskill in 1939.
The three Auckland devotees wear plain brown habits similar to the everyday clothes of the poor in St Francis' time.
Three knots dangle from Father Bernie Thomas' rope belt to signify his solemn vows.
Father Bernie is the director of the little-known but impressive St Francis Friary and Retreat Centre, next to Monte Cecilia Park and set among 3ha of trees, shrubs and lawn.
The 40-bedroom centre is picturesque and tranquil. Some might even think it old, but the bricks and mortar are weathered by a mere 80 years compared with the order's centuries of prayer and devotion.
Over the past 20 years the retreat has moved with the times and welcomed many different denominations for prayer and contemplation. Many non-profit organisations use the centre for seminars, conferences and workshops.
Father Bernie says that on the April 16 anniversary the eight New Zealand-based friars continued the spirit of St Francis' frugal traditions.
"We did not get our act together for celebrations,' says Father Bernie, "we went to chapel and prayed.'
But Father Bernie, 48, is no prude. He wears an earring as a reminder of a past life, uses a touch-screen mobile phone, hosts a Facebook page and sports Crocs rather than traditional leather sandals.
You could - if the church allowed - easily imagine he is St Francis of Assisi reincarnated when tending goldfish in the friary's pond or feeding doves by hand in this haven.
He does, however, admit the robes mislead some people into thinking he's off to a fancy-dress party.
"I wanted to join the friars because of the great sense of hospitality and vibrant community. It is important that I am seen as Franciscan.'
The energetic and personable priest was never far from his religious calling, but did not join the friars until he turned 34.
Apart from working as a draftsman, he has been a missionary in Papua New Guinea and worked for a Nelson youth ministry before training with the Marist Brothers.
Father Bernie is a talented pianist, who easily turns his hands to the retreat's chapel organ, built by an industrious friar in the 1980s. He works with the community, takes Mass and teaches at nearby Marcellin College.
The friars, he says, have survived because they moved with the times and did not limit themselves to one calling.
"The power of Francis' spirit is in the church.
"It was not founded for any particular reason like teaching. We involve ourselves with many things.' 23 04 2009