Address: 58-60 Queen St, Auckland
Phone: (09) 377 0977
Rating out of 10: Food: 5.5 Service: 9 Value: 6 Ambience: 7
We spent: $201.50 for two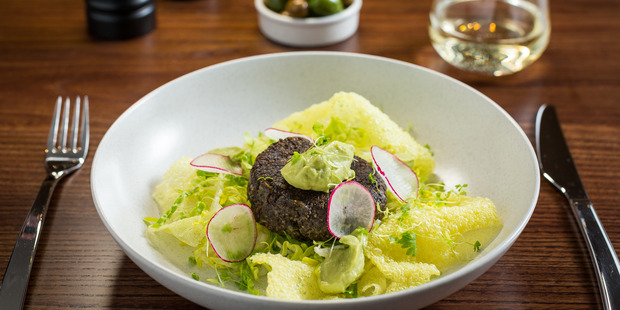 I think we had delusions of lady traveller grandeur. Hat boxes. Aperitifs. Agatha Christie meets Wes Anderson somewhere in the South Pacific.
But it was windy and I was not entirely sure where the Grand Windsor was. I blew in like a leftover autumn leaf and proceeded to disintegrate all over the table. Luckily, there was hardly anybody there to notice.
Is there anywhere lonelier — or more exciting — than a hotel dining room and bar?
In your youth, when you first travel for work, hotels reek of glamour. Later, you realise that's residual bacon from the breakfast buffet; but there is, nonetheless, something alluring about these anonymous rooms. I could be the chief executive or the chief executive's assistant. I could be a dishevelled reviewer or a columnist channelling Audrey Hepburn in an impeccably cut knee-length, powder pink coat. (Clue: I'm the reviewer.)
Megan, in the pink coat, is a vegetarian who sometimes eats fish. I'd explained this when I booked and the kitchen was refreshingly accommodating, offering to cook duck fat potato in something other than duck fat, and checking that eggs and dairy in various dressings and sauces were okay.
They were, and we proceeded apace.
A prawn tapas ($15) comprised two large specimens on a pile of soft kumara cubes. They were deliciously salty and sweet and it took willpower to not reach across the table for the decapitated head on Megan's plate. A sometime fish-eater will probably never be convinced to suck the hepatopancreas from a prawn, but in my humble opinion that liquor-rich digestive tract is the best bit.
Far less gruesome was a fish taco ($8). The tortilla was corn, a thud of flavour that works really well with, say, a spicy pulled pork, but often overwhelms a delicate piece of fish. No worries here, because the snapper had already been inexplicably overwhelmed with batter and a deep-fryer.
Our final small plate was a truffle nut mince ($14). Intrigued? I ate it, and to be honest, I'm still puzzled. A soft patty with a slight crust on a bed of greens blobbed with avocado puree and stuck with shards of puffed cracker. At one point, I thought I got sundried tomatoes but, ultimately, I didn't get it at all. It tasted vegetarian. Megan quite liked it.
Cooke's is named for the restaurant and soda fountain company that operated on this site in 1928. It sits inside the refurbished Hotel Grand Windsor that has gone big on classical and deco architectural references. The waitstaff are superb and the menu's commitment to local and organic is laudable — but, based on our visit last month, the food needs work.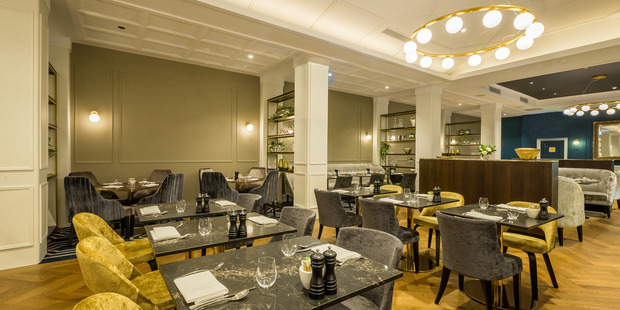 The signature dish ($34) is crumbed pork shoulder. It's billed as an "homage to a bygone era" and possibly it should have been left there. The shoulder meat was mushed and combined with cubes of potato; a kind of shoulder sausage. Yes, it came with an extraordinarily good slab of potato and an exquisitely cooked piece of scotch, but a zingy, sumac-like coating on the latter seemed unnecessary. A crime against crackle had more puff than an 80s sleeve. No fat, no flavour, just a mass of dry air bubbles that shattered meaninglessly in my mouth.
The risotto ($19) was, according to the menu, "bitter greens, peas, saffron". I took a photograph. It shows three peas and a pile of rocket on top of a pile of coagulated rice swimming in a bright yellow butter. At this point, I suspect the vegetarian would have preferred a slurp of hepatopancreas.
I wish I could stop there, but a piece of Cheese with No Name was too chilled to do justice to its gutsy flavours, and a baked ricotta cheesecake was weirdly reminiscent of cold rice pudding. Another homage to a bygone era?
- Canvas