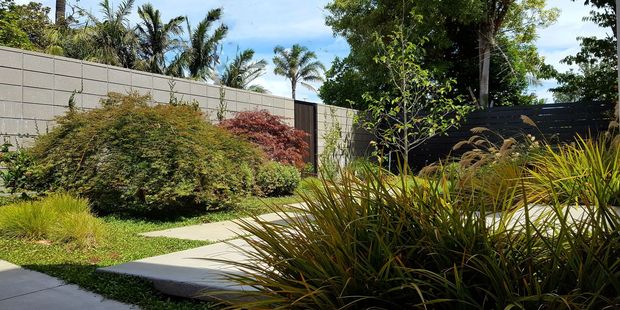 Alexia Santamaria took a tour of some of the gardens featured in the Auckland Garden DesignFest, and picked up handy tips along the way.
As we slowly emerge from a rainy winter, many of us turn our thoughts to our gardens, which - in some cases - are looking a bit more jungle-like than is ideal.
This makes the timing of Auckland Garden DesignFest perfect with 20 gardens providing inspiration for summer.
One of the challenges many people face is their desire for a gorgeous garden and outdoor space versus their ability, knowledge and the time to maintain it.
We're all becoming increasingly time-poor, so low-maintenance gardens are the way to go for those with below average gardening skills.
1 Family space.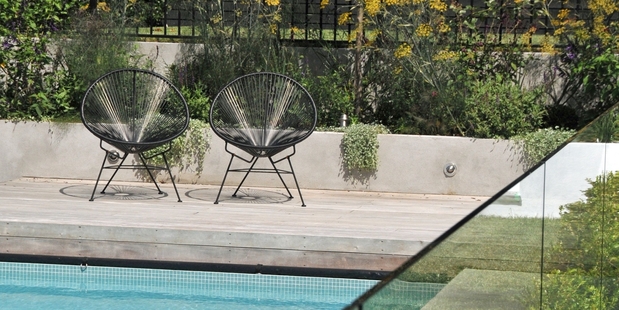 Our first stop was garden No. 5 on the GardenFest public tour programme. Keren McDonnell is a landscape designer so really enjoyed working on her own home, in Remuera. The original back yard was drastically altered to create two separate lawn areas on two levels, much to the delight of their cricket playing kids. This is a practical family space that manages to look incredibly elegant at the same time.
Tips for the time-poor:
Look carefully at your soil
By adding some garden mix and compost rather than just going with what's already there, your plants have a better chance of establishing well and thriving rather than stressing you out by threatening to die.
Drainage
Getting drainage right is key to keeping maintenance low, especially with the kind of weather we've had this winter. If the deluge can escape then your soil will drain and aerate, and your plants won't drown or end up with rotted roots.
Most striking features: Beautifully manicured hedges, including clipped ball shape. Large outdoor fireplace for long nights chatting with friends and family
Best for: Reading a book on a picnic blanket on the upper lawn space, while you watch the kids play cricket on the lower lawn, or swim in the pool
2 Undercover.
The second garden we visited is No. 11 on the trail, also in Remuera, and designed by Mark Read and Jason O'Toole of Natural Habitats. It was a bit of a challenge for these guys as they were brought in after the house had been designed and built in two parts, but they did a fabulous job essentially of planting a large soft green "carpet" of groundcover plants -- with other plants emerging from it for interest and textural variance.
Tips for those not blessed with green thumbs, or time:
Ground cover
A ground cover like the selliera radicans and lobelia angulata Leptinella dioica (planted here) is a great way to get an incredible effect which just looks after itself and spreads and grows to form a wonderful green "floor mat". The designers used a mix of two but if they had planted the selliera radicans alone, that's even lower-maintenance, as they are resistant to salt water. This means you can just pour salt water on it if there are weeds and it will kill them, and not the ground cover. Ask for something slow-growing to further reduce the effort needed.
Choose plants for the location
It might seem obvious but some people don't think to buy the right plant for the right place. Put plants that need full sun in sunny spots and more shade-tolerant plants in less light-filled areas. You're going to increase their chances of survival exponentially, giving you a better garden with less stress.
Most striking features: Long tall viewing holes in timber slat screens which pull your eyes into areas you might not have ventured into. Single lemon trees planted in individual boxes and topped with white chip to make them more of a feature
Best for: An afternoon swim followed by an intimate summer backyard barbecue with friends
3 European vibe.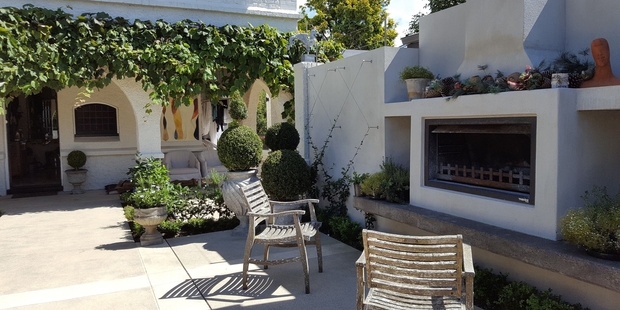 Next it was off to leafy Parnell to garden No. 10 to meet with Paul Gallagher from Mace Landscapes. The owners had a European feel in mind and Paul worked with this so well we could have sworn we were sitting in an Italian or French courtyard while we ate our delicious lunch in the sun.
Tips for keeping maintenance low and the garden beautiful:
Consider natural lawn alternatives
This works especially well for gardens with smaller lawns, like this one. There are some really good synthetic lawn options available, that give the look of a natural lawn but have the added benefits of virtually zero maintenance -- a far cry from the astro-turf look of old (it was really hard to tell the one used wasn't actually real grass).
Keep garden beds mulched
This is a great tip for reducing long-term maintenance. A 100mm-thick layer of mulch will help suppress weed growth and highlight any rogue weeds, which can then be easily plucked. Mulching also reduces water loss from soil through evaporation and it will eventually break down to add nutrients to it, promoting better plant establishment and growth.
Most striking features: The European courtyard theme complete with ornate concrete urns, pots and planters. The large outdoor fireplace next to the lawn
Best for: Long al fresco lunches with family on sunny Sunday afternoons
4 Architectural beauty.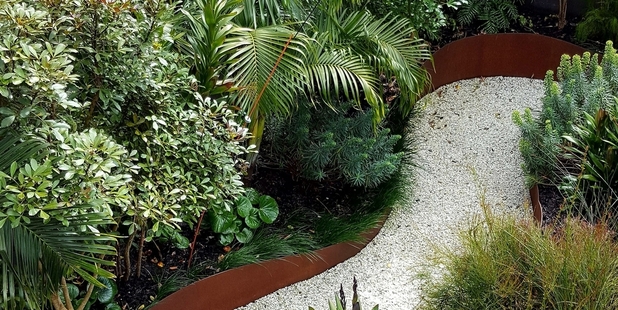 Our last stop was garden number 16 in Westmere, designed by Trish Bartleet of Trish Bartleet Landscapes. The house was totally rebuilt in 2013 and a new garden was required to match the stunning residence. It's a beautiful mix of corten steel and loose white pebble paths with lots of architecturally interesting native plants, plus some imports for extra effect.
Tips for a beautiful garden without stressing yourself out are:
Choose your plants carefully for height
It pays to ask at the nursery how tall plants will grow. Pseudopanax cyril watson and chamaedorea costaricana were chosen here as they only grow 2-4 metres and that means little or no maintenance required .
Go for robust, long flowering colour -- or even no colour at all.
Bartleet planted a stunning bird of paradise plant in this garden and says that kind of plant is perfect if you're not a gardener, as it gives colour without stress.
"They flower long and are really hardy, so a great choice -- your garden centre expert will be able to suggest others. Also remember multiple shades of green and varying leaf textures can give incredible variety if you want to steer clear of flowers totally."
Most striking features: The soft and bright curved loose white pebble paths. Sculptural plants and flowers like dypsis and bird of paradise. A path of individual pavers surrounded by white pebble, leading out to the back
Best for: Finding tranquility and space to think, in the middle of busy modern suburban life.