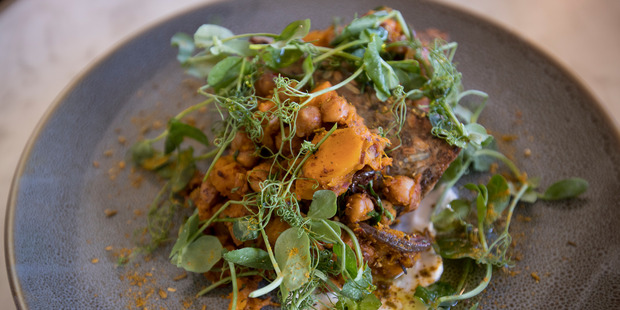 Address: 143 Queen St, Northcote Pt
Phone: (09) 419 9372
Open: Mon-Fri 7am-3.30pm, Sat 8am-3.30pm
We spent: $55.40 for two
---
SET UP & SITE
I'd driven past frequently, as what was previously a small cafe and a kidswear shop was being transformed into something resembling a larger eatery. Finally the impressive "Billy" signage went up. Actually finding time to get to visit Billy proved more difficult, but at last we did.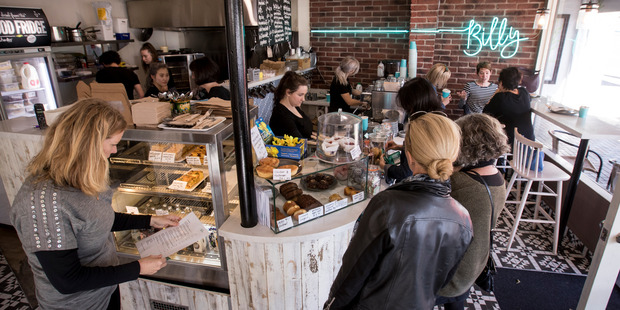 SUSTENANCE & SWILL
Both the brunch and lunch menus are served until 2.30pm, so I went for the Middle Eastern spiced pumpkin ($16.50) from the brunch (it came with chickpeas, seeds and fresh herbs, served on toasted Midnight Baker Freedom loaf) and my dining companion opted for the lunch menu and its classic caesar salad with all the usual trimmings - cos, bacon, anchovies, pecorino cheese and a house-made dressing - and added chicken tenderloins ($18.50). The coffee is good, from beans blended for the cafe by the New Zealand Coffee Company. Feeling the need to investigate the delights of the cabinet, we ordered a plum friand ($4.50) - you can have dessert for brunch, right? Served with a coconut yoghurt, it was the right amount of sweet to satisfy.
SERVICE & OTHER STUFF
A small but tidy operation, with one dining area and several tables out front, roadside, the decor is pleasantly blue and white, the most distinctive elements being the "Billy" signage with a New York diner-style feel. The waitstaff were helpful and service correct. Don't waste time waiting to meet Billy, however, the name is the cafe's rather than a person's - but it makes a good place for locals to grab a relaxing brunch, lunch or just coffee and cake.
- Canvas