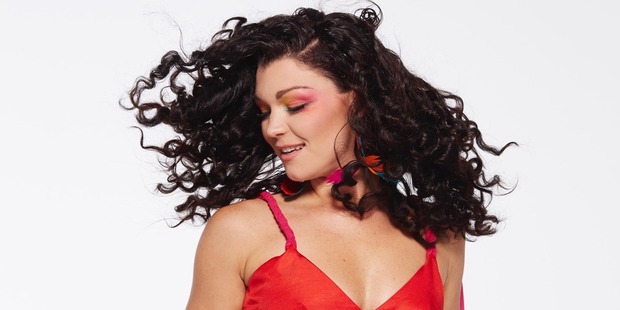 Anna Hawkins will release her third studio album on March 10.

The New Zealand singer-songwriter, who has been touring and recording in Europe, will mark the release of Bold, Brave & Beautiful with an extensive nationwide tour kicking off on March 17.

Venues will include wineries, churches and art galleries as she visits centres including Napier, Rotorua, Tauranga, Whanganui and several more.

Hawkins said: "I'm drawn to songs that move me over and above a specific genre of music. This is reflected in what I've performed over the years and especially in what I've sought to create with this album."
Tour dates:
March 17th Palmerston North, Cafe Royale (Dinner & Show)*
March 18th Napier, Church Road Winery (Dinner & Show)*
March 19th Rotorua, Blue Baths (High Tea Matinee) Show 3pm*
March 24th Hamilton, University of Waikato, Playhouse Theatre Show 7.30pm Available from www.waikato.ac.nz/academy FULL BAND - with special guests Waikato Rivertones & Lisa Grace Hawkins
March 25th Tauranga, Holy Trinity ChurchShow 7.30pm Tickets Available from www.waipuna-hospice.co.nz FULL BAND - with Lisa Grace Hawkins in partnership with Waipuna Hospice
March 26th Morrinsville, Wallace Art Gallery (Matinee) Show 3pm with special guest Lisa Grace Hawkins *
April 1st Queenstown, Hilton Queenstown Hotel (Dinner & Show) Start 6pm Bookings wakatipugrill@hilton.com Ph: 03 4509400
April 2nd Ashburton, Ashburton Trust Events Centre Tickets $35 Show 7.30pm Available from www.ateventcentre.co.nz
April 5th Whanganui, Wanganui Collegiate, Prince Edward Auditorium Show 7.30pm Available from www.royaloperahouse.co.nz With special guests local artists Madelyn Slater-Carter & Angelu Wu
April 6th New Plymouth, 4th Wall TheatreShow 7.30pm Available from www.4thwalltheatre.co.nz
April 7th Karapiro, The Hangar Show 8pm Available from FULL BAND - with special guest Lisa Grace Hawkins *
April 8th Auckland, Devonport,The Vic Cinema & Cafe Theatre.
Devonport Arts Festival. Show 8pm tickets available from www.thevic.co.nz
EXTRA SHOW: March 31st Christchurch - Transitional Cathedral - Will Martin "Encore" ( Joining Will as Guest Artist)
* Tickets from www.eventfinda.co.nz

More details can be found at www.annahawkinsmusic.com.


---
Nadia Reid has released the video for The Arrow and The Aim.
The track is from her upcoming album Preservation, due next month.
The video, which stars Chris Parker and was directed by Julian Vares, was shot in an abandoned house surrounded by stunning landscapes at Mt Somers, near Christchurch.
Reid says: "I guess there's a lot left to the imagination with the video. I like that. The song is about reaching the very end of a relationship".
---
New Zealand singer-songwriter Thomas Oliver has announced a new single and album.
Shine Like The Sun, released today, comes from Oliver's second studio album, Floating In The Darkness, due April 28.
The single features Louis Baker on backing vocals and guitar, and a cockle-warming combination of horns, Hammond organ and woodwind in a late summer feel-good jam.
Oliver last year won the Silver Scroll for his track If I Move To Mars, which will also feature on the new album.
---
Christchurch rockers Decades, who made a mark last year with the songs Terrified and If It Kills Me, have a new single.
I Was With Him explores the "turbulent emotions we endure when traversing the world of heartbreak, betrayal, and romantic destiny."
Singer Emma Cameron says it's not a song about heartless cheating. "This is a song about excruciatingly painful matters of the heart, where no one gets out without wounds, but ultimately, will all be better off for it".
Decades have toured with Villainy and have been working on their debut album with Shihad's Tom Larkin. It's due this year.
---
The musicians behind the uber-catchy 2013 hit Stolen Dance are set to visit New Zealand for a show at Auckland's Powerstation.
Milky Chance, a German dance-folk duo, will bring their world tour to our biggest city on April 26 after the release of their second album Blossom next month.
The pair have a new single, Doing Good, the follow-up to Cocoon, released late last year.


Concert tickets are available from secretsounds.com.