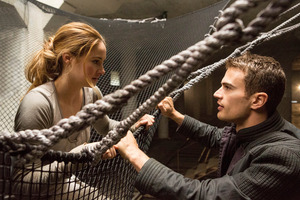 Move over Hunger Games, here comes Divergent. Appealing to the same audience as the Hunger Games and the Twilight saga, Divergent, based on the first book of a trilogy, takes us into a futuristic world where people are divided into separate worlds.
With the aid of a personality test, emerging adults are given the choice of five factions to join - Erudite (smart and logical), Amity (kind and peaceful), Candor (honest), Dauntless (fearless protectors of the nation) and Abnegation (selfless).
It was believed that the war that nearly destroyed Earth would not be repeated if people mixed with their own kind.
Beatrice Prior (Shailene Woodley) comes from an Abnegation family but is disturbed to find her personality test shows no clear pattern, meaning she is a Divergent.
Divergents are feared by all factions as they have traits of all personalities and are seen as a threat to peace and harmony because they can think outside the square.
Beatrice (Tris) opts for the Dauntless faction but knows she must keep her real identity secret if she is to survive.
Battling through basic training for Dauntless recruits, Tris forms a bond with Dauntless instructor Four (Theo James), who helps keep her out of trouble.
When Tris and Four see Erudite leader Jeanine Matthews (Kate Winslet) spending a lot of time at the Dauntless base, they begin to question her motives.
It seems a power grab is being planned and the Dauntless members are going to be the soldiers who take control.
Only Divergents will have the mental capacity to withstand the mind control being imposed so it is up to Tris and Four to save their world.
Although I am far from the target market, I thoroughly enjoyed Divergent and, as with the Hunger Games trilogy, can't wait for the next instalment.
Watch the trailer here: