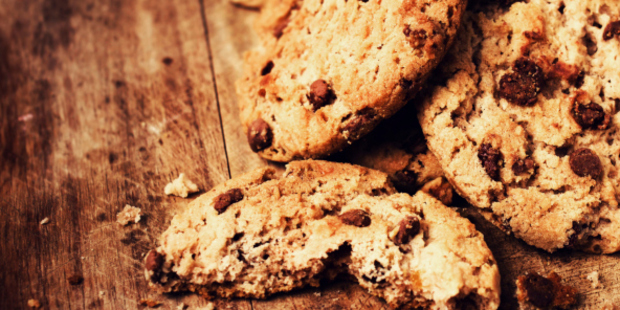 These scrummy oat and chocolate cookies are just the thing to have with a cold glass of milk.
Ready in 40 minutes. Makes 30-ish cookies
INGREDIENTS
225 g butter
1 cup brown sugar
1 tbsp golden syrup
1 1/2 cups plain flour
1 1/2 cups rolled oats
1 tsp baking powder
2-3 tbsp milk, or as much as needed
1 cup or more chocolate chips or chunks
METHOD
Preheat the oven to 180C. Grease baking sheets.
In a bowl or food processor cream the butter and sugar together until light. Add the golden syrup, then stir in the flour, rolled oats, baking powder and milk. Lastly, add the chocolate chips. If using a processor, be sure to stir the chocolate and oats in by hand or the processor may chop them up.
Roll the mixture into balls or just blob it onto the prepared sheets.
Bake for 15 minutes or until lightly browned. As the cookies bake they will rise; if you prefer a flatter cookie, give them a gentle press with a fork during baking. Transfer to racks to cool.