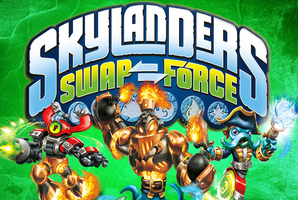 Skylanders have never really held an interest for me as I saw them as a merchandising vehicle. They have an addictive quality that clearly shows in their record-breaking success. I know a grown man who has spent $100s, if not $1000s collecting Skylanders, and some of the rarer ones can sell for big money.
Angry Birds merchandise has been my (well my son's) poison of choice, so it was with great trepidation that I slipped Skylanders: Swap Force into my Xbox 360.
Skylanders relies on placing toys on to a portal which teleports that character into the game. Skylanders: Swap Force takes that idea and expands it by having six figurines (with 10 more soon) with whom you can mix and match their top and bottom halves, creating a new character with mixed abilities and powers.
For generations, the Swap Force protected the volcano that replenishes Skylands' magic. That is until an epic battle caught them in an eruption that blasted them apart. It's up to you to mix and match the Swap Force to restore the balance of power.
Considering the game is aimed at a younger audience, there's not a lot of skill involved in the combat. General button mashing will get you through most situations. Compared to similarly styled games such as Spyro, Swap Force holds up very well.
So be warned. Skylanders: Swap Force is a thoroughly enjoyable game, which could be a slippery slope to financial ruin.
Skylanders: Swap Force
From: Activision
For: Xbox 360
Rating: 4 / 5