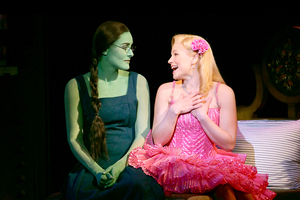 Tonight Auckland's entertainment precinct will be bathed in emerald green light to celebrate the arrival of the Broadway musical Wicked in New Zealand.

Jay Laga'aia, in costume as the Wizard, and Mayor Len Brown, will jointly push the plunger at 7pm which will bathe the Auckland Town Hall, the Aotea Centre and Aotea Square and The Civic theatre in green light..

Members of the public should be in place by 6.45pm to witness this colourful event on the main steps of the Aotea Centre.

Winner of over 50 major awards including the Grammy Award and three Tony Awards, Wicked is the untold story of the witches of Oz.
Long before Dorothy drops in, two other girls meet in the land of Oz. One, born with emerald-green skin, is smart, fiery and misunderstood. The other is beautiful, ambitious and very popular.
Wicked tells the story of their remarkable odyssey, how these two unlikely friends grow to become the Wicked Witch of the West and Glinda the Good.

John Frost, Co-Producer of WICKED, said he is delighted to be adding a touch of green to New Zealand's very own Emerald City.
"Wicked is like no other show that I have worked on before, the fan base for and support for this show worldwide is quite a phenomenon, and looking at the support we have received already in Auckland I think we are off to a great start here. We thank Auckland for such a warm welcome."