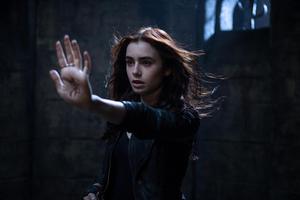 Think your typical teenage fantasy: supernatural beings, a (supposedly) hot protagonist, with a dash or two of teenage angst thrown in for good measure.
But before the cynical eye- rolling begins, let me assure you this isn't your typical teenage saga.
Though The Mortal Instruments: City of Bones will draw comparisons with the infamous Twilight series it, thankfully, does manage to retain a plot of sorts.
To those unfamiliar with this best-selling six-book series by Cassandra Clare, the initial absence of vampires will certainly be refreshing, with the film focusing primarily on Shadow Hunters.
These half-angel, half-human hybrids are the warriors of the underworld and, yes, werewolves, vampires, demons, angels, witches, warlocks and fairies all contribute to the eclectic proceedings.
Set in Brooklyn, New York, and following the escapades of teenager Clary Fray (Lily Collins), an entirely new normal is promptly revealed.
Along with her best friend, Simon Lewis (Robert Sheehan), Clary is witness to a brutal murder at a local nightclub, though it appears as if she is the only actual witness to the crime. If you hadn't already guessed, Clary is, in fact, a Shadow Hunter.
Cue a whirlwind attack on Clary's mother, several introductions to demons, a man named Valentine and a golden cup, henceforth referred to as the Mortal Cup.
Before total confusion is achieved, spare a thought for poor "friend-zoned" Simon. And no, no translation is available; perhaps a visit to Urban Dictionary will update you to an intellectually "hip" zone.
The Mortal Instruments: City of Bones certainly does put a new spin on the teen drama genre and, surprisingly, comedic value is even instilled in place of typical morose interactions.
Fans of the books will be suitably impressed by the screen adaptation. Meanwhile, the action scenes and plethora of Irish actors should keep remaining viewers suitably enraptured.
Mortal Instruments: City of Bones
(M) 130 minutes
Rating: 3.5 / 5