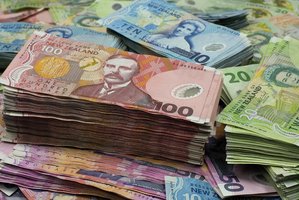 KiwiSaver is popular for one main reason - someone else puts money in too.
Most employers put money in. The Government puts money in. Any scheme where someone else contributes has to be good.
Why not do the same if you are buying a house with a big mortgage?
The principles below also apply to home buyers of any age who have to borrow a lot.
Dave and Barbara, ages 49 and 46, asked me for advice. Both are divorced and in a new (two-year) relationship. Between them they have $250,000 and want to buy a decent house that will cost $400,000 to $450,000 in the city where they live.
They are earning $100,000 gross between them.
No dependent children either, so no need for a three or four bedroom house.
In thinking it over, I looked at the long term - what would their finances look like when they get to retirement, at say age 65 to 68?
Their KiwiSavers at age 65 should total about $250,000 - by then $250,000 might buy what $150,000 buys today - not what retirement dreams are made of.
I recommended that they keep $30,000 to $50,000 for emergencies, because they will need to keep earning until age 65 to be able topay off a mortgage.
Sickness, redundancy, economic downturn or other adverse events could hit them hard. Who wants to lose their house for the sake of not having $40,000 or so tucked away for a rainy day?
Then put in as big a deposit as possible - $200,000.
If they borrow about $220,000 for a $420,000 house, the mortgage will cost $1800 a month over 20 years (at 8 per cent mortgage interest - best to assume on the high side) and they will pay $221,000 in mortgage interest alone.
But what if they borrow say $270,000 to buy a house with a sleepout, flat, or that can be divided into a home and rental?
* Then they will pay $1800 a month, and their tenant will pay $800 a month (assume rent of $200 a week - the low end).
* Between them, they could pay off a higher-value property in 15 years - five years sooner.
* And pay less interest of $194,000 (their "share" of interest would be $136,000).
* A debt-free higher-value property sooner.
They would also get tax relief - deductions on the rental mortgage interest.
Like KiwiSaver, wherever you can get someone else to pay a portion, you win.
Tenants living next door to the landlord behave better too.
Plus when debt-free and retired, they will have rental income still coming in - nice to have.
But what if we can't find a house with a sleepout, or that can be divided?
There aren't many, we can't, it won't work, we would rather have lifestyle, we want to live in a nice four-bedroom, two-bathroom home ... No such word as can't.
Look for a house with a sleepout and let it. One with space and build a sleep-out.
Note the Auckland unitary plan is going to allow more dwellings on most properties.
Look for a house where you can modify the garage into a flat (carports are inexpensive).
Look for one that can easily be divided into separate accommodation. Even better, find a house that has one of the above features, and has future sub-dividable potential too.
Buy bare land and build two new units.
How much better off will you be?
Debt-free after 15 years vs another five years' mortgage to go.
A property after 15 years worth say $650,000 vs a house worth say $525,000.
After 15 years, a tenant paying you $10,000 to $15,000 a year - money you don't have to work for.
Extra income in retirement of $10,000 to $15,000, with virtually no effort from you.
Debt-free five years earlier, then you can save more for retirement - say an extra $50,000 to $100,000 that you would have otherwise paid the bank in interest. I could go on ...
Alan Clarke is author of Retire Richer - A Practical Guide For Everyone Aged 25 to 85. He blogs on www.investandretire.co.nz and is an authorised financial adviser whose disclosure statement is available on request and free of charge.